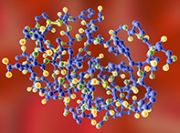 © KATERYNA_KON/ STOCK.ADOBE.COM. Insulin like growth factor.
Birth weight may modify link between adult insulin-like growth factor-1 levels and type 2 diabetes risk
By Melanie Hinze
Birth weight has been shown to modify the relation between adult levels of circulating insulin-like growth factor-1 (IGF-1) and risk of type 2 diabetes, but only in men and in those with a birth weight 2.5 kg or above, according to research published in BMJ Open Diabetes Research and Care.
The authors of this large, prospective study recruited 181,090 adults, aged 39 to 70 years, from the UK Biobank Study, who were free of major cardiovascular disease or diabetes at baseline. During a mean follow up of 9.9 years, there were 3299 incident cases of type 2 diabetes.
In general, those with lower IFG-1 levels tended to be older and more likely to be deprived, ever smokers and daily drinkers. They also tended to have a higher body mass index, short or longer sleep duration, poor reported health, a higher prevalence of hypertension, maternal smoking exposure and a higher level of clinical biomarkers.
After adjustment for potential confounders, the authors found that participants with a self-reported birth weight 2.5 kg or above had adult IGF-1 levels that were inversely associated with type 2 diabetes risk in a dose-dependent manner. However, participants with birth weights less than 2.5 kg did not demonstrate a significant association between IGF-1 and type 2 diabetes risk. The interaction between IGF-1 and birth weight on type 2 diabetes risk was also only seen in men, not women.
The authors also found the link between IGF-1 and type 2 diabetes risk was not modified by genetic predisposition to birth weight.
Dr Jacqueline Curran, Paediatric Endocrinologist and Head of Service for the Childhood Obesity Service at Princess Margaret Hospital, Perth, said that previous similar studies, using much smaller cohorts, had produced inconclusive results. However, this large study found an inverse relation between IGF-1 levels and type 2 diabetes risk.
'The takeaway message for GPs is that the accumulation of risk factors for developing adult-onset diseases, such as type 2 diabetes, begins very early in life,' she said. 'Prenatal and postnatal exposures play a role in adult disease and can be used as a focus of counselling with patients, acknowledging some risk factors are within the control of the individual, while others not,' she added.
BMJ Open Diab Res Care 2021; 9: e001885; doi:10.1136/bmjdrc-2020-001885.