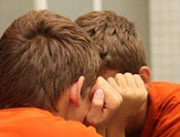 PIXELPROF/ISTOCKPHOTO.COM MODEL USED FOR ILLUSTRATIVE PURPOSES ONLY
Body dissatisfaction in adolescents: a public health issue
By Nicole MacKee
Adolescents who express body dissatisfaction at 14 years of age are at increased risk of developing depression in their later adolescent years, UK researchers say.
In a prospective study published in the Journal of Epidemiology and Community Health, researchers analysed the data of 2078 females and 1675 males (born between 1991 and 1992) from the Avon Longitudinal Study of Parents and Children. They found that females who reported body dissatisfaction at age 14 were at higher risk of a mild (odds ratio [OR], 1.63), moderate (OR, 1.67), and severe depressive episode (OR, 1.84) at age 18. Males who reported body dissatisfaction at 14 were also more likely to experience mild (OR, 1.50) or severe depression (OR, 2.85) four years later.
Body dissatisfaction was assessed by a series of questions asking participants to rate, on a five-point Likert scale, their satisfaction with 11 aspects of their body: weight, figure, body build or breasts, stomach, waist, thighs, buttocks, hips, legs, face and hair.
Dr Orli Schwartz, clinical psychologist and research fellow with Orygen, said the study findings were concerning, with body dissatisfaction common at 'this unique time in human development'.
'Young people's bodies are changing dramatically at this time,' she said. 'This study suggests that we should pay attention when young people express dissatisfaction with their bodies in early to mid-adolescence. This isn't something that we should just write off as a normal part of adolescent development.' 
Dr Schwartz said helping young adolescents to better understand the 'really amazing changes' in their bodies at this time may help them to navigate this challenging time of life.
The 285% increased risk of severe depression among young men reporting body dissatisfaction at age 14 was a notable finding, Dr Schwartz said.
'Young men have, over time, become as susceptible to some of those societal messages about body image as young women traditionally have been,' she said. 'Self-consciousness and dissatisfaction with their bodies is being increasingly seen clinically in young men.'
And, she said, the proliferation of smartphone and social media use in the years since the study concluded might be exacerbating body dissatisfaction in adolescents, although further study was needed.
'There is now more opportunity for young people to compare themselves to various idealised images,' she said.
The study authors pointed to previous international research that had shown that 61% of adolescents experienced some degree of body dissatisfaction. They concluded that the body dissatisfaction should be 'considered a public health issue of pressing concern'.
J Epidemiol Community Health 2020; 0: 1–6; doi:10.1136/jech-2019-213033.