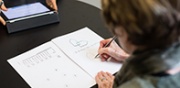 Brief cognitive assessments are screening tools only
By Bianca Nogrady
The use of brief cognitive assessments alone for the diagnosis of possible dementia runs the risk of misclassifying the condition, new research suggests.
Researchers analysed data from 824 older adults enrolled in the US-based Aging, Demographics and Memory Study who underwent assessment with the Mini-Mental State Examination (MMSE), Memory Impairment Screen (MIS) and animal naming. Diagnosis was adjudicated by an expert panel of geriatric psychiatrists, neurologists, internists and cognitive neuroscientists.
The study, published in Neurology: Clinical Practice, found that when only one brief cognitive assessment test was used, misclassification occurred in 35.7% of participants, whereas 13.4% were misclassified by two or more assessments and 1.7% by all three assessments.
Misclassification rates were highest for the MMSE (21%), which also had the highest false-positive rate (18.6%) but the lowest false-negative rate (2.4%). The MIS had a misclassification rate of 16%, false-positive rate of 9.5% and false-negative rate of 6.3%, whereas animal naming had a misclassification rate of 14%, false-positive rate of 6.8% and false-negative rate of 7.7%.
The researchers also noted that patients with higher education levels were more likely to have a false-negative misclassification, whereas those with lower education levels were more likely to have a false-positive misclassification by the MMSE.
'Knowledge of factors which predict misclassification and are readily available in clinical practice may improve clinical decision making by enhancing the selection and interpretation of assessments,' the researchers wrote.
Commenting on the study, Professor Brian Draper, Conjoint Professor at the School of Psychiatry at UNSW Sydney, said brief cognitive assessments were only really screening instruments, not diagnostic tools.
'These instruments are only intended to identify whether a person has a level of cognitive change that needs further investigation,' he told Medicine Today. 'We should always be aware not to go on the score of one of these tests to make a diagnosis.'
Professor Draper said these brief assessments were also often challenging for people from non-English-speaking backgrounds, and also for the very elderly in whom sensory deficits could impact their ability to do the test.
Neurol Clin Pract 2019; 9:1-9; doi: 10.1212/CPJ.0000000000000566.