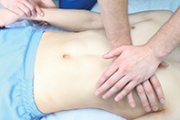 Bystander CPR doubles survival rate
By Bianca Nogrady
Cardiopulmonary resuscitation (CPR) performed by bystanders before the arrival of emergency services more than doubles the 30­-day survival rate after an out­-of-­hospital cardiac arrest, new research shows.
A Swedish study of 30,381 patients who had an out­-of­-hospital cardiac arrest found that the 30­-day survival rate was 10.5% if CPR was performed before paramedics arrived, but only 4% if it was not performed.
The survival rate remained more than twice as high after bystander CPR even after adjusting for factors such as location and cause of cardiac arrest, emergency service res­ponse times and the year of the event. When time to defibril­lation in patients who were found to be in ventricular fibrillation was included, the survival gain was similar.
More than half of the out-­of-­hospital cardiac arrests in the study involved bystander CPR, according to the report published in The New England Journal of Medicine.
Another study in the same issue of the journal examined the impact of a mobile phone positioning and dispatch system to bring CPR­-trained laypersons to the site of an out­-of­-hospital cardiac arrest.
The study showed that such a system, which issues mobile phone alerts to registered, trained laypeople at the same time that emergency services are notified, achieved a signifi­cant increase in bystander CPR rates.
Heart Foundation South Australia CEO Dr Amanda Rischbieth said that both research and anecdotal reports point to a clear benefit from bystander CPR in out­-of­-hospital cardiac arrest.
'Ambulance and paramedic personnel will tell you that if CPR has not been in place by the time they arrive, the chances of survival are greatly diminished,' Dr Rischbieth told Medicine Today.
Likewise, the implementa­tion of defibrillation is known to significantly boost survival chances, and the Heart Foundation is advocating for more cardiac defibrillators in high traffic public places and sports grounds.
Commenting on the mobile phone dispatch system, Dr Rischbieth said a number of these systems have been investigated around the world, with varying degrees of success. She said that there are some issues, such as who initiates the dispatch call and what criteria to use for the person dispatched, but these systems could work effectively if these issues are worked through carefully.
'In principle, the default position is that early effective CPR and defibrillation is as important as the early dispatch of qualified help,' she said.
'If phone systems, over time, produce that result then it is positive to go down that track, but without getting in the way of logistics and the systemised protocols of emergency services command centres.'
N Engl J Med 2015; 372: 2307-2315, doi: 10.1056/NEJMoa1405796.
N Engl J Med 2015; 372: 2316-2325, doi: 10.1056/NEJMoa1406038.
Picture credit: © sudok1/Dollar Photo Club.