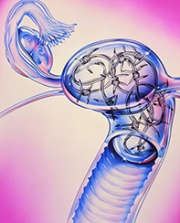 Call for improved health literacy in women on menstrual symptoms
By Nicole MacKee
Research findings that menstruation-related symptoms, such as heavy menstrual bleeding and dysmenorrhoea, are common and can impact on women's productivity underscore the importance of improving health literacy around menstruation, says a leading women's health expert.
Dr Deborah Bateson, Medical Director of Family Planning NSW, said many young women were unsure of what was normal in a menstrual cycle and what was not, and were often unaware of the management options available to them.
'There is this concept that you just put up with it and there is nothing that can be done,' she told Medicine Today.
Dr Bateson's comments came as Dutch researchers reported in BMJ Open that menstruation-related symptoms, including dysmenorrhoea, heavy menstrual bleeding and premenstrual mood disturbances, had a significant impact on productivity in schools and workplaces.
Of the 32,748 women (aged 15 to 45 years) included in the cohort study, 80.7% reported presenteeism, defined as productivity loss at work or school, during their menstrual cycle. The researchers calculated that presenteeism resulted in an average of about nine days of lost productivity per year.
Absenteeism was reported by 13.8% of participants, with 3.4% taking time off school or work every or almost every menstrual cycle. This resulted in a mean of 1.3 days off work or school per year.
Also, a systematic review and meta­ analysis by Australian researchers, repor­ted recently in the Journal of Women's Health, found that the prevalence of dysmenorrhoea and associated symptoms was common internationally. The review of 38 studies, including 21,573 young women, found that 71.1% of participants reported dysmenorrhoea, regardless of the economic status of the country.
Dr Bateson said there was a range of treatments available for common menstrual symptoms – from over-the-counter NSAIDs to the oral contraceptive pill and hormonal intrauterine devices – but women often lacked awareness of these options. Some were also reluctant to take medication, or used them for fewer days than recommended, due to concern about potential side effects.
Dr Bateson said the research highlighted the importance of GPs taking a 'thorough menstrual history' when seeing women of reproductive age.
'We know that women can sometimes feel some shame around [menstrual complaints], so the key is to open up these conversations and ensure that, as clinicians, we listen and take these symptoms seriously,' she said.
Dr Bateson welcomed the Federal Government's announcement last year of a National Action Plan for Endometriosis, and said the initiative was likely to have positive spin­offs for other menstrual disorders.
BMJ Open 2019; 9: e026186 and J Women's Health 2019;
doi: 10.1089/jwh.2018.7615.