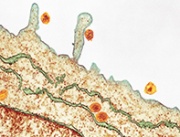 © THOMAS DEERINCK, NCMIR/SPL. Hepatitis C viruses infecting cultured liver cells.
Call for increased hepatitis C testing and treatment to reach elimination targets
By Melanie Hinze
Although the elimination of hepatitis C in Australia is possible, currently a lack of engagement, testing and treatment is holding the country back from reaching WHO elimination targets by 2030, an Australian expert has told Medicine Today.
Professor Margaret Hellard was senior author of a paper published in the Medical Journal of Australia that concluded that hepatitis C elimination programs in Australia should focus on increasing testing rates and linkage with care to ensure adequate levels of treatment.
Professor Hellard, who is Deputy Director at the Burnet Institute, Head of Hepatitis Services in the Department of Infectious Disease at The Alfred Hospital and Adjunct Professor of Infectious Diseases Epidemiology at Monash University and the University of Melbourne, said it was vital that all in the healthcare team – primary care doctors, specialists and nurses – were engaging with patients and offering tests.
The study analysed quarterly data on government­ subsidised hepatitis C RNA testing and hepatitis C treatment in Australia from January 2013 to June 2018. The impact by 2030 of different levels of testing and treatment was estimated using mathematical modelling.
The study authors determined that if current trends in testing and treatment continued, by 2030 72% of infected people would be treated and the hepatitis C incidence would be 59% lower than in 2015. This was well short of the WHO target of an 80% reduction. As such, the identification and testing of people exposed to hepatitis C must be increased by at least 50% for Australia to reach the WHO elimination target.
Professor Hellard recommended that GPs talked with their patients about hepatitis C.
'Patients with a history that puts them at risk of hepatitis C should be invited to have a test,' she told Medicine Today. She also recommended that GPs ask other patients, particularly those with abnormal liver function tests, questions about whether they may have engaged in behaviours in the past that put them at risk of hepatitis C.
'The other important message for GPs is that hepatitis C engagement, testing and treatment is simple and patients are really enthusiastic about undergoing treatment if found to be infected with hepatitis C,' said Professor Hellard. 'As a doctor who treats people for hepatitis C, it's fabulous to actually be able to cure somebody,' she said, adding, 'Patients are so relieved, delighted and grateful.'
Med J Aust 2020; doi: 10.5694/mja2.50544.