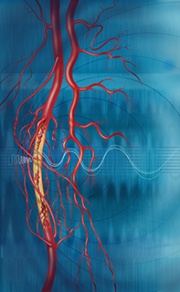 Can combined vascular screening reduce mortality?
By Nicole MacKee
Combined screening for abdominal aortic aneurysm (AAA), peripheral arterial disease (PAD) and hypertension can reduce mortality, say Danish researchers who have found that one life can be saved for every 169 men invited for screening.
Findings from the Danish Viborg Vascular (VIVA) trial, which were presented at the recent European Society of Cardiology Congress and published in the Lancet, showed that screening men aged 65 to 74 years for the three vascular conditions could reduce mortality by 7% (hazard ratio, 0.93) with an absolute risk reduction of 0.006.
The VIVA trial randomly assigned 50,156 men to a screening program or to usual care. The screening program included abdominal ultrasound and ankle-­brachial index (ABI) measurement, and participants were followed up over five years.
Participants who tested positive were offered elective repair for large AAAs and clinical follow up for small AAAs, and aspirin and statin therapy was prescribed to all participants with AAA or PAD. Participants with suspected hypertension were followed up in general practice.
Mr Jason Chuen, Director of Vascular Surgery at Austin Health, Melbourne, said a Western Australian trial into AAA screening, reported in JAMA Internal Medicine in late 2016, had been the only randomised trial to date not to find an overall mortality benefit from population screening.
'It has been suggested that either the detection and active management of aortic aneurysm or cardiovascular (CV) disease is already quite high in the Australian population, or that patients are unresponsive to primary care measures even when an additional health engagement opportunity is offered,' Mr Chuen told Medicine Today.
He noted that the VIVA study did not show any significant reduction in aneurysm­-related mortality. 'The authors recognised that the benefit from the detection of AAA probably did not contribute much to the absolute reduction in mortality. Most likely the benefit came from treatment of modifiable CV risk factors,' Mr Chuen said.
'In addition, 90% of the AAA detected were less than 5.5 cm and below normal treatment thresholds. Some patients can remain under AAA surveillance for many years and if this is not handled well they can experience significant psychological distress from the concept that they have a "ticking time bomb" in their abdomen.'
He said that combined CV screening clinics had long been proposed in Australia, but the primary benefit demonstrated in this study was to engage patients with doctors so that they have risk factors such as hypertension and cholesterol treated. 
'In Australia, this is usually handled very well by GPs – as long as patients actually go to their GPs,' Mr Chuen said.
Lancet 2017; http://dx.doi.org/10.1016/S0140-6736(17)32250-X. 
Picture credit: © Science Source/DNA Illustrations/Diomedia.com. Peripheral arterial disease detection.