Can fish oil-derived fatty acids in pregnancy reduce the risk of childhood asthma?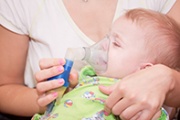 By Jane Lewis
Children born to mothers given large doses of fish oil supplements in late pregnancy have a significantly lower risk of asthma and wheeze, reports a Danish study published in The New England Journal of Medicine.
However, the dose of the n−3 long-chain polyunsaturated fatty acids (LCPUFAs) used in the study was up to 20 times higher than the normal daily intake in most countries, the study authors noted.
Speaking to Medicine Today, Professor Peter Sly, Director of Children's Lung, Environment and Asthma Research, Child Health Research Centre, University of Queensland, and Director of the WHO Collaborating Centre for Children's Health and Environment, said the study's results are very interesting, but more research is needed before any changes to clinical practice can be considered.
'We certainly shouldn't be rushing to prescribe these megadoses of supplements to pregnant women at this stage,' he said.
In the study 736 pregnant women were randomly assigned at 24 weeks of gestation to receive 2.4 g of n−3 LCPUFA (fish oil) or placebo (olive oil) per day, and their offspring (695 children) were followed for three years. The risk of persistent wheeze or asthma in the treatment group was 16.9%, compared with 23.7% in the control group, equating to a relative reduction of 30.7%.
The authors observed that supplementation had a greater effect on the children of women with low eicosapentaenoic acid (EPA) and docosahexaenoic acid (DHA) blood levels at the time of intervention, and also on the children of mothers with a genotype associated with low EPA and DHA blood levels. Supplementation was found to be associated also with a reduced risk of lower respiratory tract infections, but not with asthma exacerbations, eczema or allergic sensitisation.
According to Professor Sly, for prevention, clinicians would need to assess the genetic ability of women to metabolise the fatty acids in fish, as well as measure the levels of fatty acids in their blood, and only supplement those women who the tests showed might derive some benefit 'This is obviously not realistic,' he added.
The author of an accompanying editorial warned that although the study's results were 'highly promising,' caution is warranted because of the high doses of supplements used, which need to be properly assessed for potential adverse effects. Further research is also needed to determine whether lower doses are effective and whether these results can be replicated in other populations, the editorialist concluded.
N Engl J Med 2016; 375: 2530-2539; doi: 10.1056/NEJMoa1503734.
N Engl J Med 2016; 375: 2596-2598 doi: 10.1056/NEJMe1611723.
Picture credit: © Virythtpehjljd89/Stock.adobe.com. Model used for illustrative purposes only.