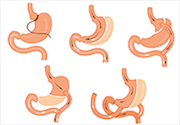 Cardiovascular benefits of bariatric surgery highlighted
By Nicole MacKee
Bariatric surgery may help to cut the long­-term risk of cardiovascular events in people with obesity, UK researchers have reported in the European Heart Journal.
After median follow up of 11.2 years, the researchers found that bariatric surgery was associated with a 60% reduction in the risk of fatal or nonfatal myocardial infarction or ischaemic stroke (hazard ratio, 0.41) in patients with obesity. A 60% reduction in new diagnoses of heart failure was also associated with bariatric surgery.
The nested cohort study compared 3701 patients who had undergone bariatric surgery with 3701 matched controls. Patients had a median age of 36 years and median body mass index of about 40 kg/m2, and adjustment was made for cholesterol levels, smoking, alcohol use, exercise and use of medications such as statins, beta blockers and hormone replacement therapy.
The researchers reported that with a number­-needed­-to­-treat of 62 to prevent one cardiovascular event over 11 years, the potential overall lifetime benefit of bariatric surgery was large.
Mr Paul Burton, Senior Research Fellow with Monash University's Centre of Obesity Research and Education, Melbourne, said the findings added to existing evidence of the long­term benefits of bariatric surgery.
'[This study] should reassure GPs that achieving and sustaining weight loss is an increasingly critical manoeuvre,' said Mr Burton, who is also a surgeon at the Alfred Hospital's Bariatric Clinic. 'Along with encouraging patients to give up smoking, control their blood pressure, and control their cholesterol, weight loss is a key risk­ reducing strategy.'
The researchers noted that fewer than 1% of eligible patients in the UK underwent bariatric surgery. Mr Burton said the uptake in Australia among eligible patients was also low, with up to 95% of bariatric surgeries conducted in the private sector.
He added that the Alfred Hospital was the largest provider of public bariatric surgery in Australia, with more than 3000 public surgeries performed in the past decade.
In addition to the individual cardiovascular benefits shown in this study, Mr Burton said his team presented research at the 2019 International Federation for the Surgery of Obesity and Metabolic Disorders Conference in Madrid showing benefits to the health system when specific patient groups were targeted with bariatric surgery.
'Our focus has been on the people who are admitted to hospital very frequently, due to their obesity. Within one year of surgery, you save resources in terms of hospitalisation and outpatient appointments in cardiology and diabetes clinics,' he said.
'The limitation is that our healthcare system does not have the resources to widely invest in surgery when the benefits will be delivered over years and decades rather than immediately,' he added.
Eur Heart J 2020; 00: 1-8; doi:10.1093/eurheartj/ehaa069.