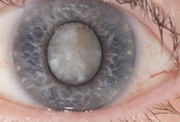 Cataract surgery linked with decreased mortality in women
By Jane Lewis
In older women with cataract, cataract surgery is associated with lower risk for total and cause-specific mortality, a study based on data from the Women's Health Initiative (WHI) has found.
The study's authors claim it is the first to examine the association between cataract surgery and cause-specific mortality, and that the WHI is an ideal cohort to use for this purpose, since it contains detailed information on demographic, comorbidity, and lifestyle factors in a large cohort of US women with more than 20 years of follow up, as well as information on total and cause-specific mortality.
'This is an interesting study,' ophthalmologist Dr Michael Hennessy, senior staff specialist at Sydney's Prince of Wales Hospital, told Medicine Today.
'The results are fascinating, although more research is needed to understand them in a way that's useful for clinical understanding and public health policy.'
The US prospective observational study, published in JAMA Ophthalmology, included 74,044 women with cataract (aged 65 years and over; mean age 70.5 years), 41,735 of whom underwent cataract surgery. After adjustment for demographics, systemic and ocular comorbidities, and selected lifestyle factors, cataract surgery was found to be associated with a lower risk for all-cause mortality (adjusted hazard ratio [AHR], 0.40). It was also associated with lower risks of death due to vascular (AHR, 0.42), cancer (AHR, 0.31), accidental (AHR, 0.44), neurological (AHR, 0.43), pulmonary (AHR, 0.63) and infectious (AHR, 0.44) causes.
'Further studies of the associations [between] cataract surgery, systemic disease, and disease-specific mortality would be informative for improving patient selection and use of cataract surgery and for improved understanding of the benefits of cataract surgery beyond vision improvement,' the authors concluded.
According to Dr Hennessy, when considering the applicability of the study's findings, there are important distinctions to be made between the US and Australian healthcare systems. 'Because of the funding system in the USA, people tend to access surgery differently than in Australia,' he said. 'Factors influencing when and how people access cataract surgery need to be further explored to accurately interpret these results.'
'However, regardless of differences between our healthcare systems, the fundamentals are the same. Cataract surgery is a low-risk, fast-recovery operation that gets good results, and GPs should be conscious of indications – whether that be driver's licence checks, or optometrists making spectacle updates – and refer patients as soon as they [detect] cataracts.'
'The sands are shifting slowly,' he added, with cataract surgery being justifiable in patients with increasingly fewer symptoms.
The author of an accompanying commentary noted that, from a practical perspective, the study's findings indicate the importance of access to cataract surgery for older women, and asked the question: 'Might treatment of other ophthalmic conditions have similar associations with reduced mortality among women?'
JAMA Ophthalmol 2017; doi:10.1001/jamaophthalmol.2017.4512.
JAMA Ophthalmol 2017; doi:10.1001/jamaophthalmol.E1-E2.
Picture credit: © Dr P. Marazzi/SPL