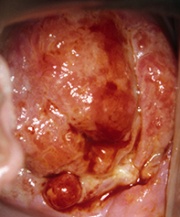 © DR ISABELLE PARTIER/ISM/SPL. CERVICAL CANCER.
Cervical cancer screening rates lower in young women not vaccinated against HPV
By Bianca Nogrady
Cervical cancer screening rates are significantly lower among young women who are not vaccinated against the human papillomavirus (HPV) compared with those who are, new Australian data suggest.
A report from the Australian Institute of Health and Welfare examined cervical cancer screening participation rates and outcomes in the era of HPV vaccination. It revealed that among women aged 20 to 24 years who had received the HPV vaccine, 46% had participated in cervical screening, compared with 33% of women who were unvaccinated. Among those aged 25 to 29 years, screening participation rates were 57% among vaccinated women and 44% among unvaccinated women.
The report Analysis of Cervical Cancer and Abnormality Outcomes in an Era of Cervical Screening and HPV Vaccination in Australia also showed that in women aged 20 to 69 years, cervical cancers that were detected through screening had a 77% lower likelihood of causing death than those not detected through screening. The rate of cervical cancer death was 5.9% for screen-detected cervical cancers, but 27.3% for nonscreen-detected cervical cancers in women who had never been screened.
Of the 6897 cases of cervical cancer diagnosed in 2002 to 2012, 5% were detected through cervical cancer screening, but 51% were diagnosed in women who had never been screened. The remaining 44% were diagnosed in women who had been screened before their diagnosis, but the cancer was not detected by screening. Overall, 72% of cases occurred in women who had never been screened or were lapsed screeners (not recently screened).
Commenting on the findings, Dr Megan Smith, research fellow in the Cancer Research Division of the Cancer Council NSW said the lower rates of screening among unvaccinated young women were cause for concern.
'That puts them at this double disadvantage and they're not getting full benefits of either of our really good prevention programs for cervical cancer,' Dr Smith told Medicine Today.
Dr Smith said uptake of the HPV vaccine was consistently high, and was similar across metropolitan and regional areas, socioeconomic status, and among Indigenous and non-Indigenous women.
The same was not true of screening, however, and screening participation rates had been declining over time, particularly among women aged under 35 years.
Given the lower cervical cancer survival rates in women who had never been screened, Dr Smith stressed the importance of the first screen.
'Once they start, they do tend to continue so probably the biggest barrier is getting women to have that first test,' she said. She pointed out that self-collection of cervical samples was now available for certain women, such as those who had never been screened.
AHIW 2019; Cancer series no. 126. Cat. no. CAN 129. Canberra: AIHW.