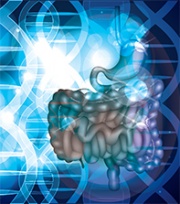 Childhood inflammatory bowel disease – what is the cancer risk?
By Jane Lewis 
Childhood onset inflammatory bowel disease (IBD) is associa­ted with an increased risk of any cancer, in both childhood and later in life, reports a large nationwide cohort study in the British Medical Journal. 
The risk of cancer associated with IBD does not appear to have decreased over time, wrote the researchers, who pointed out that although relative risks of gastrointestinal cancers are high, absolute risks remain low. 
'This is a significant study using a large cohort of patients in Sweden, at the Karolinska Institute, famed for epidemiological research,' gastroenterologist Professor Rupert Leong, Director of Endoscopy and Head of the Inflammatory Bowel Disease Service at Concord Hospital, Sydney, told Medicine Today. 
Described by the author of an accompanying editorial as a 'thoughtful and thorough investigation,' the researchers used data from the Swedish Patient Register (1964–2014) to identify 9405 people diagnosed with IBD (4648 cases of ulcerative colitis, 3768 Crohn's disease and 989 unclassified) before 18 years of age, and to assess their risk of cancer compared with 92,870 reference individuals from the general population. 
During follow up (median age at end, 27 years), 497 people with childhood onset IBD had first cancers, compared with 2256 in the general population (3.3 vs 1.5/1000 person-years), corresponding to one extra case of cancer for every 556 patients with IBD followed for a year. Relative risks (2.6 for ulcerative colitis; 1.7 for Crohn's disease) increased in the first year after diagnosis, and remained significantly higher at five years of follow up and onwards. Gastrointestinal cancers had the highest relative risks (hazard ratio [HR], 18.0 overall), including colorectal cancer (HR, 19.5), small intestinal cancer (HR, 12.8) and liver cancer (HR, 134), followed by lymphatic and skin cancers. Primary sclerosing cholangitis, long­ standing colitis and a family history of any cancer in relatives under 50 years of age were strong risk factors for any cancer. 
The increased risk of cancer (before the 25th birthday) was similar over time, with no decrease since the introduction of thiopurines or biological therapies, wrote the researchers. Although they 'cannot rule out' that such therapies increase the risk of cancer, the extent and duration of chronic inflammation 'might be the main driving mechanisms,' they suggested. 
'The cancer risk associated with childhood-onset IBD occurs at a young age and is likely due to the duration of the IBD resulting in DNA damage,' commented Professor Leong. 'We already know that longer duration of inflammation results in higher risk of DNA damage and progression towards colorectal cancer.' 
'There has been no decrease in cancer rates over time, which suggests we are not adequately controlling inflammation to reduce the chance of DNA damage. There is therefore a great need for better drug treatments for childhood IBD,' he observed, adding there is also 'a need for high quality surveillance colonoscopy,' with chromoendoscopy advocated for those with high risk. 
BMJ 2017; doi: 10.1136/bmj.j3951.
BMJ 2017; doi: 10.1136/bmj.j4285.
Picture credit: © Reineg/stock.adobe.com