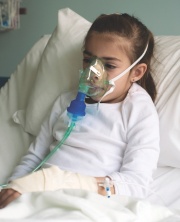 Children with asthma exposed to cigarette smoke: doubled risk of hospitalisation
By Jane Lewis
Children with asthma who are exposed to second-hand tobacco smoke are nearly twice as likely to be hospitalised with an asthma exacerbation and are more likely to have lower pulmonary function test results compared with controls, according to the results of a meta-analysis published in the Annals of Allergy, Asthma and Immunology.
'This is the first time this risk has been quantified and will enable healthcare providers to convey the harmful effects of second-hand smoke to parents about aggravation of asthma,' the authors of the meta-analysis stated. 
Commenting on the research, Associate Professor David Armstrong, Head of Respiratory Medicine at Monash Children's Hospital, Melbourne, said it was a well conducted meta-analysis that clearly showed the significantly increased risks for children exposed to second-hand smoke. 
'All doctors who care for children with asthma should check if they are exposed to cigarette smoke at home. If they are, we need to ask if the parents have considered quitting, and help them access quit resources, which are readily available,' he said. 
The meta-analysis included a total of 434,737 patients (mean age 7.6 years) from 25 studies, most of which investigated smoking exposure at home or by parents. Children exposed to second-hand smoke were found to be significantly more likely to be admitted to hospital than children without second-hand smoke exposure (odds ratio [OR], 1.85), as well as to need emergency department or urgent care visits (OR, 1.66), and have wheeze symptoms (OR, 1.32). Pulmonary function testing showed the FEV1/FVC ratio was significantly lower in children with smoking exposures (OR, 3.34), but there was no significant difference in FEV1%.
'This two-fold difference in risk of hospitalization is a significant difference related to disease severity, because hospitalizations for asthma increase the likelihood of fatal asthma and poorer asthma control,' the authors wrote. They also noted that it illustrates the increased burden of disease on the healthcare system. 
Assessment of second-hand smoke should be an integral part of asthma care in children, they stressed, helping to address modifiable risk factors and improve the overall health of children with asthma.
Ann Allergy Asthma Immunol 2015;
http://dx.doi.org/10.1016/ j.anai.2015.08.005.
Picture credit: © Kirby Photo/iStock. Model used for illustrative purposes only.