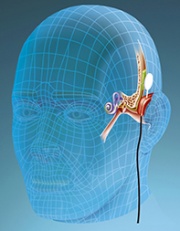 Cochlear implants underused in older people
By Nicole MacKee
Cochlear implants remain underused in older people, says a leading Australian surgeon after researchers published a series of consensus statements on the use of implants in adults with severe, profound, or moderate sloping to profound hearing loss.
Writing in JAMA Otolaryngology – Head and Neck Surgery, researchers reported the findings of a consensus panel of 30 international specialists who, guided by a systematic review of 74 articles, arrived at 20 evidence­-based consensus statements.
They reported that awareness of cochlear implantation among primary and hearing health professionals was inadequate, leading to the underidentification of eligible candidates.
Professor Catherine Birman, Cochlear Implant Surgeon at SCIC and Macquarie University Hospital, Sydney, said although Australia was the 'poster child' for cochlear implantation awareness, many older people who could benefit from this technology were still missing out.
'Cochlear implants are well known in Australia thanks to Professor Graeme Clark [who invented the technology] and Cochlear Limited is on the Australian Stock Exchange,' she said. 'But it is estimated that, even in the Australian population, only about 10% of adults who would benefit from a cochlear implant have received one.'
Professor Birman said many health professionals still viewed cochlear implantation as primarily being for children.
'They don't realise that they are also fantastic for adults,' she said. 'And many adults think that their hearing is not bad enough for cochlear implanta­tion or they are too old. In fact, most cochlear implants are in those aged 70­-plus and it can make a huge difference to their quality of life.'
Professor Birman said GPs could ask their patients three questions (while the patient was wearing their hearing aid) to identify patients who may be candidates for cochlear implantation.
Can you hear people in a noisy situation?
Can you hear children's voices?
Can you understand people on the phone?
'If the answer is 'no' to any of those three questions, the patient should be sent to have further assessment for cochlear implant candidacy,' she said.
In another statement, the researchers said adults with hearing loss could be substantially affected by social isolation, loneliness and depression. Evidence suggested that cochlear implantation could lead to improvement in these aspects of wellbeing and mental health, they wrote.
The researchers also concluded that although hearing loss was not a symptom of dementia, treatment of hearing loss may reduce the risk of dementia.
Professor Birman said in 2017 the Lancet Commission reported that hearing loss was the single largest modifiable risk factor for dementia in midlife.
JAMA Otolaryngol Head Neck Surg 2020; doi:10.1001/jamaoto.2020.0998.