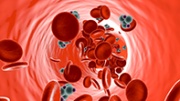 © SPECTRAL DESIGN/STOCK.ADOBE.COM. GLUCOSE MOLECULES IN THE BLOODSTREAM.
Cognitive decline linked to poorer glycaemic control irrespective of diabetes status
By Nicole MacKee
Increases in blood glucose levels can elevate an individual's risk of cognitive decline, irrespective of their diabetes status, researchers have reported in Diabetologia.
In an analysis of data from the English Longitudinal Study of Ageing, researchers found significant longitudinal associations between diabetes status, glycated haemoglobin (HbA1c) levels and cognitive decline.
The study included 5189 community-based participants, aged 50 years and over, with baseline HbA1c levels ranging from 15.9 to 126.3 mmol/mol (3.6 to 13.7%). Diabetes was defined as an HbA1c level of 6.5% or greater and prediabetes, 5.7 to 6.4%. Participants were followed over 10 years and had an average of 4.9 cognitive assessments during that time.
The researchers found that global cognitive decline was significantly greater in participants with prediabetes and diabetes than in participants with normoglycaemia, and that diabetes was linked with increased declines in memory, executive function and orientation z scores. They also found that higher HbA1c levels at baseline, regardless of the participant's diabetes status, were significantly associated with increased rates of decline in memory and executive function, although not in orientation.
The researchers said the findings suggested that measures to delay diabetes onset and to improve glycaemic control might help to reduce the progression of cognitive decline.
Professor Jonathan Shaw, Deputy Director (Clinical and Population Health) at the Baker Heart and Diabetes Institute, Melbourne, said the inclusion of several cognitive assessments throughout the study period provided a clearer picture of the trajectory of the well-known association between diabetes and cognitive impairment.
'The association between diabetes and cognitive decline is a fairly continuous one,' he said. 'It's not that a person has diabetes, in which case, they're in trouble; or they don't have diabetes, and they're fine. Diabetes is an arbitrary spot along the continuum.'
Professor Shaw said while the increased risk was not large, it could affect a person's capacity to manage their diabetes. 'Mild cognitive impairment may not interfere with activities of daily life, but it may influence how a person manages a chronic condition, particularly something like diabetes, which involves complex self-management,' Professor Shaw told MedicineToday.
'It does raise the question as to whether or not we should be more frequently and more formally testing people with diabetes for cognitive function. Not necessarily because we want to give them a label of dementia, but because it may be relevant in how we approach education.'
Professor Shaw said the findings might also help to motivate people to adopt healthier behaviours.
'We know that it's difficult to motivate people to make the appropriate lifestyle changes,' he said. 'When you're talking about reducing the risk of both diabetes and cognitive impairment – the value of improving physical activity levels may be increased, which may motivate people to attain these goals.'
Diabetologia 2018; https://doi.org/10.1007/s00125-017-4541-7.