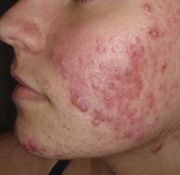 © ISM/SPL; MODEL USED FOR ILLUSTRATIVE PURPOSES ONLY
Concerns expressed by adult women with acne
By Melanie Hinze
The mental and emotional health consequences experienced by adult women with acne, along with disruption to their personal and professional lives, have been highlighted in a qualitative analysis published in JAMA Dermatology.
The US study involved semistructured interviews of 50 patients recruited from clinics at the University of Pennsylvania Health System and a private dermatology practice. The women were aged 18 to 40 years and had moderate to severe acne.
The women said that concerns about their appearance affected their social, professional and personal lives. Many were highly aware of their appearance due to their acne, or struggled with intrusive thoughts about how they looked or how much attention others were paying to their acne. Several described feeling less confident at work and many went out of their way to hide their acne from anyone they dated.
Depression, anxiety and social isolation were also common. The researchers reported that mental health and acne were closely tied in the minds of many participants.
'The idea that acne was only a cosmetic problem and not a significant medical issue was something with which many patients struggled because for many it had significantly affected their mental health', they wrote.
Associate Professor Erin McMeniman, specialist dermatologist at Central Brisbane Dermatology and visiting medical officer at the Department of Dermatology, Princess Alexandra Hospital, agreed, saying, 'adult acne can cause significant distress and [patients] should be referred to a dermatologist if first-line treatments fail'. She added that management also needs to be tailored to each individual.
'In this study many patients had tried topical agents with some effect, but the drying side effect can be an issue,' she said. 'Many women have tried long-term antibiotics and hormonal treatments and either have inadequate response or concerns about side effects. Oral isotretinoin is a very effective treatment but it also can have side effects in some and cannot be used in women planning a pregnancy.'
Study participants described effective treatment as having completely clear skin over time, or having a manageable number of blemishes.
The researchers called for future trials to better understand optimal treatment approaches for women with acne and to improve outcomes in this population.
JAMA Dermatol 2021; doi: 10.1001/jamadermatol.2021.2185.