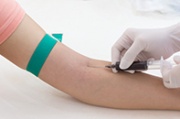 Consensus statement: fasting is not required to test lipid profile
By Jane Lewis 
Fasting is not routinely required to determine a lipid profile, according to a joint consensus statement from the European Atherosclerosis Society and European Federation of Clinical Chemistry and Laboratory Medicine. 
Published in the European Heart Journal, the statement recommends that nonfasting blood samples be routinely used to assess plasma lipid profiles, with fasting measurements considered if nonfasting plasma triglyceride concentrations exceed 5 mmol/L. 
'This is a major advance in lipid testing that will help facilitate screening and testing for many lipid disorders, especially those that affect cholesterol alone, such as familial hypercholesterolaemia' Professor Gerald Watts, a contributing author of the consensus statement, told Medicine Today. 
'While this will make lipid testing simpler, patient preferences will still need to be accounted for' and 'fasting may still be required for assessing elevated triglycerides or when altering treatment in those with unstable lipid levels,' said Professor Watts, consultant physician at the Royal Perth Hospital's Lipid Disorders Clinic, Perth. 
Other key recommendations included in the statement are that laboratory reports flag abnormal values on the basis of desirable concentration cut-points, and that life-threatening or extremely high concentrations trigger immediate referral to a lipid clinic or a physician with expertise in lipids. 
The recommendations were based on extensive observational data comparing nonfasting and fasting lipid profiles, which show that the maximal mean changes at one to six hours after eating a meal are not clinically significant. Research also shows that nonfasting and fasting concentrations vary similarly over time, and are comparable when predicting cardiovascular disease. 
Nonfasting and fasting measurements of the lipid profile should be viewed as complementary rather than mutually exclusive, the statement authors advised, stating that 'common sense must prevail and a distinction made between their use in screening, assessment, and diagnosis.' 
Eur Heart J 2016; doi: 10.1093/eurheartj/ehw152.
Picture credit: © Mikumistock/Stock.adobe.com