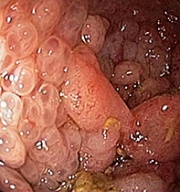 Consider endoscopy for all patients with AF on anticoagulants who develop GI bleeding
By Melanie Hinze
All patients receiving oral anticoagulants who develop gastrointestinal (GI) bleeding should ideally be examined via endoscopy for the presence of colorectal cancer, an Australian expert advised Medicine Today.
Dr Harry Gibbs, Deputy Director of General Medicine at the Alfred Hospital in Melbourne was discussing new research published in the European Heart Journal.
'This study found that some­ where between 4% and 8% of people who had bleeding while on anticoagulants turned out to have colorectal cancer,' he said.
The Danish nationwide cohort study included 125 418 patients (median age, 73 years) with atrial fibrillation (AF) who were being treated with oral anticoagulants. During a maximum of three years' treat­ment 2576 cases of lower GI bleeding were identified and 140 of these patients were diagnosed with colorectal cancer within a year of their GI bleeding.
Across all age groups, lower GI bleeding was linked with markedly increased risk ratios of colorectal cancer compared with patients without lower GI bleeding.
'Lower GI­ bleeding should not be dismissed as a benign consequence of [oral anti­ coagulant] therapy but always examined for a potential underlying malignant cause,' the researchers wrote.
Dr Gibbs said that, interest­ingly in this study, the likeli­hood of endoscopy decreased with increasing patient age. It went from 60% in those aged less than 65 years, to 55% in those aged 76 to 80 years, and to close to 37% in those aged greater than 85 years. However, the prevalence of cancer was much higher in the older group.
'What that means to me is that we shouldn't be put off by age,' he said. 'If someone is deemed suitable for anticoagulant therapy then they are likely to be suitable for colonoscopy.' Dr Gibbs added that while 65% of study participants aged over 85 years didn't undergo colonoscopy, 5% of this group were shown to have cancer.
Dr Gibbs said the bottom line was that if you had patients on anticoagulant therapy with evidence of GI bleeding, which usually manifested as iron defi­ciency, you should investigate with endoscopies, as a signifi­cant number would have cancer.
Eur Heart J 2020; 00, 1-7; doi:10.1093/eurheartj/ehz964.