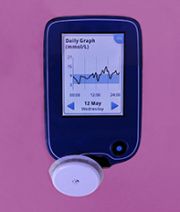 © DRAGOLJUB BANKOVIC/ SHUTTERSTOCK
Continuous glucose monitoring improves glycaemic control in type 2 diabetes
By Dr Emily Lathlean MB BS, FRACGP
Two JAMA studies have found significantly better glycaemic control in insulin-treated patients with type 2 diabetes using continuous glucose monitoring (CGM).
The first, an exploratory retrospective cohort study, included 41,753 insulin-treated participants (5673 with type 1 diabetes and 36,080 with type 2 diabetes) and compared those who were initiated on CGM (3806 patients) with those who were not (37,947 patients) at 12 months before and after baseline. Mean glycated haemoglobin (HbA1c) decreased by 0.41% among CGM initiators and 0.09% among noninitiators. The proportion of CGM initiators with type 2 diabetes whose HbA1c level exceeded 9% at baseline decreased from 23.8% to 13.0%, compared with a 1.5% decline in noninitiators. CGM initiation was also associated with less hypoglycaemia, fewer annual outpatient visits and more telephone visits.
The second study, a randomised clinical trial across 15 centres in the US, included 165 participants with type 2 diabetes managed by primary care physicians, being treated with one or two daily injections of long- or intermediate-acting basal insulin without prandial insulin. Participants were randomly assigned to receive CGM (n=116) or traditional blood glucose monitoring (BGM; n=59). Mean HbA1c level decreased from 9.1% at baseline to 8.0% at eight months in the CGM group and 9.0% to 8.4% in the BGM group. The mean percentage of time in the target glucose range was 16% higher in the CGM group than in the BGM group.
Associate Professor Neale Cohen, Head of Diabetes Clinical Research at the Baker Institute, Melbourne, welcomed the findings.
'We have fairly good evidence that CGM has benefits for type 1 diabetes, and certainly this is becoming state of the art technology, but in type 2 diabetes there is not as strong evidence around this,' he said.
'Both of these studies showed some benefits. In particular, the randomised controlled trial was interesting because this was in patients on basal insulin – these patients still got a benefit from CGM despite fairly simple insulin regimes. Presumably this is due to just better behaviour from patients who can see their glucose levels continuously.'
The main barrier to using CGM is cost. In Australia, only people with T1DM who meet certain criteria can access funding through the National Diabetes Services Scheme. Many patients are left thousands of dollars out of pocket each year for full-time CGM use.