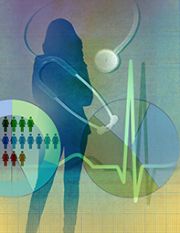 © IKON IMAGES/ROY SCOTT/SPL
CVD in women: call for action to reduce global burden
By Rebecca Jenkins
Cardiovascular disease (CVD) is the leading cause of death in women globally, yet it remains understudied, underdiagnosed and undertreated, an international expert panel warns.
Writing for The Lancet Commissions series, 17 female experts from 11 countries called for urgent action to reduce the global burden of CVD in women by 2030, saying progress had stagnated in the past decade.
Many factors contributed to the inequity between men and women in both the diagnosis and treatment of CVD, the authors noted, including women being under-represented in, or excluded from, cardiovascular clinical trials. This meant there was less opportunity to measure the safety and efficacy of therapies for women, identify sex-specific difference in outcomes and develop sex-specific strategies that could improve guideline recommendations.
'Although overall awareness about cardiovascular disease in women has increased over the past decade, most health-care providers and patients still tend to underestimate the cardiovascular risk in women,' the experts added.
Current evidence also suggested that women were less likely than men to receive cardiovascular therapies as recommended by guidelines, with the biggest shortfalls occurring in young women.
Women were also more likely than men to be subject to health disparities that arise from sociocultural factors and socio-economic and political contexts, such as gender discrimination.
Dr Clare Arnott, Co-Director, Global Chronic and Complex Diseases at the George Institute for Global Health, and staff specialist cardiologist at Sydney's Royal Prince Alfred Hospital, strongly supported the report's recommendations, adding it was 'wonderful' to see a sex-specific approach to CVD.
'If we want to improve outcomes for women we need to break down key barriers including lack of understanding of the biological differences in CVD pathology and response to treatments between the sexes, poor understanding of sex-specific risk factors, lack of awareness and prioritisation at a community level and physician bias,' she told Medicine Today.
'Moving forward we must all demand research that is powered to conduct prespecified sex disaggregated analysis and report on these findings, to the benefit of both sexes.'
Analysing the particular challenges facing individual regions, the report stressed the need for culturally sensitive prevention programs in Australia to address the especially high CVD burden among Aboriginal and Torres Strait Islander women.
Dr Arnott said these unacceptably high rates were a 'national tragedy' and echoed the report's recommendations for further action, saying not enough had been done at a national level.
'We must support our Aboriginal and Torres Strait Islander community and elders who are leading the way in advocating for change,' she said.
Lancet 2021; https://doi.org/10.1016/S0140-6736(21)00684-X.
https://womencvdcommission.org.