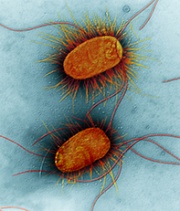 Cystitis symptoms: infection probable even if tests are negative
By Jane Lewis
Evidence of bacterial infection can be found in 'almost all' women with urinary tract infection (UTI) symptoms, including those in whom no infection is found using standard urine testing, reports new research from Belgium, published in Clinical Microbiology and Infection.
At least 25% of symptomatic women have a negative urine culture when standard testing is used, wrote the study's authors, who set out to determine whether such women may have an infection that could be detected using a more sensitive testing method.
Dr David Looke, infectious diseases physician and clinical microbiologist at Princess Alexandra Hospital in Brisbane, said it was an interesting study and part of the explosion of information about UTIs produced by new molecular technologies.
'A lot of what we understand about urinary tract infections goes back to 1960s so this study is really helpful. It will be good to see another group repeat the same findings,' he told Medicine Today.
In the study, quantitative PCR (qPCR) was used to test urine samples, in addition to a standard culture, from 220 women (aged 17 to 65 years) with dysuria and/or symptoms of frequency and/or urgency, and a control group of 86 asymptomatic women. Overall, 95.9% of samples from symptomatic women tested qPCR-positive for Escherichia coli. Among 42 women whose samples were culture-negative using standard testing, 90.5% were found to be qPCR-positive for E. coli.
In the control group, cultures for E. coli and E. coli qPCR were positive in 10.5% and 11.6% of cases, respectively, which the authors suggested reflected the expected rate of asymptomatic bacteriuria in the general female population. In the symptomatic group, qPCR yielded 19 positive samples for Staphylococcus saprophyticus, and one positive sample each for Mycoplasma genitalium and Trichomonas vaginalis. No sexually transmitted agents were found to be responsible for symptoms in culture-negative women.
'Instead of spending time and energy to prove an uncomplicated UTI, physicians can rely on the typical symptoms and focus on acknowledging and managing the patient's complaints,' the authors stated.
Commenting on the findings, Dr Looke said he thought it reasonable to start women of reproductive age with clinical symptoms of a UTI on treatment according to therapeutic guidelines, rather than wait for the results of urine culture. 'However, I disagree with the study's conclusion that a culture is not necessary. We are seeing increasingly more resistance to antibiotics. If a patient doesn't respond to antibiotics and we haven't done a culture, we are really behind the eight ball.'
The findings do not translate to treating children, elderly women, patients with catheters or men with UTIs, he said, adding 'there is a big problem with asymptomatic bacteriuria in elderly patients being inappropriately treated.'
Clin Microbiol Infect 2017; doi: 10.1016/j.cmi.2017.04.004.
Picture credit: © Eye of Science/SPL. Escherichia coli (TEM).