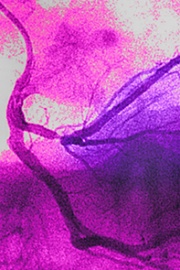 Depression linked to death, MI in stable angina
By Bianca Nogrady
Depression is associated with an increased risk of myocardial infarction (MI) and death in people with stable angina, new data suggest.
In a retrospective cohort study, Canadian researchers looked at the impact of a diagnosis of depression in 22,917 patients with newly diagnosed stable angina, defined as obstructive coronary artery disease on an index coronary angiogram.
Among the 18.8% of patients diagnosed with a first occurrence of depression within three years of their angiogram result, researchers saw an 83% higher risk of death and 36% greater risk of admission for MI, compared with patients. without depression.
However, a diagnosis of depression did not significantly impact the need for subsequent revascularisation, according to this paper, published in Circulation: Cardiovascular Quality and Outcomes.
Patients who were female, with more symptomatic angina or who had a remote history of depression were more likely to be diagnosed with depression after their angina diagnosis.
Of patients diagnosed with a depressive episode, 8% were diagnosed within 30 days of their angina diagnosis, 10.3% were diagnosed between 30 and 90 days and 10.4% were diagnosed 90 to 180 days after the angiogram.
'Our findings complement the current literature on depression and cardiovascular disease, which has thus far focused on more acute manifestations of coronary artery disease, in contrast to stable angina,' the authors wrote.
'Similar to post-MI and CABG [coronary artery bypass grafting] patients, the higher likelihood of death and readmission for MI associated with depression in patients with chronic stable angina is likely multifactorial in pathogenesis, involving both biological mechanisms and health behaviors, such as medication noncompliance.'
Commenting on the study, Professor Garry Jennings, Chief Medical Officer for the National Heart Foundation of Australia, said all patients with heart disease, including those with stable angina, should be screened for depression as soon as their heart condition is diagnosed.
'The message for Australian doctors is to be alert for the presence of depression in anyone with heart disease and manage it actively,' Professor Jennings told Medicine Today.
Professor Jennings said the Heart Foundation also recommends routine screening for depression in these patients, at first diagnosis, at the next follow-up appointment, two to three months after the heart event, and then yearly after that.
Circulation: Cardiovascular Quality and Outcomes 2016. doi: 10.1161/CIRCOUTCOMES.116.002904.
Picture credit: © Cavallini James/BSIP/SPL