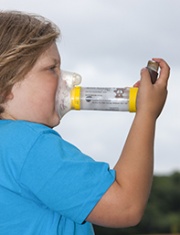 © LEWIS HOUGHTON/SPL MODEL USED FOR ILLUSTRATIVE PURPOSES ONLY
Is difficulty in conceiving an asthma risk factor in offspring?
By Nicole MacKee
Children born to parents who have had difficulty conceiving are at increased risk of developing asthma, according to Norwegian research.
The study, published in Thorax, found that both parental subfertility and characteristics related to the assisted reproductive technology (ART) procedure itself may increase an offspring's risk of asthma.
The researchers evaluated data for 474,402 children in the national Norwegian health registries, and 75,797 children in the Norwegian Mother and Child Cohort Study (MoBa). Children were classified as having asthma at age 7 years if they had been dispensed at least one prescription for asthma medications in the year before their 7th birthday.
An increased asthma risk was found in children conceived by ART (adjusted relative risk [aRR], 1.20 in the registry­-based cohort and 1.42 in MoBa). When compared with children spontaneously conceived with a time to conception of more than a year, the aRR was 1.22. Maternal history of early miscarriage (12 weeks' gestation or less) was also associated with an increased risk of asthma in offspring. After one early miscarriage, the aRR was 1.07, increasing to 1.24 after three or more miscarriages.
The researchers suggested that a common immunological mechanism may underlie the increased risk of asthma among the children of mothers who experienced subfertility and miscarriage.
In an accompanying editorial, Australian respiratory physician Professor Peter Gibson wrote that women with asthma often had more trouble conceiving than those without asthma.
'This leads to a need for assisted reproductive therapies, which themselves may be associated with an increased risk of childhood asthma,' wrote Professor Gibson, who is also Co­Director of the Hunter Medical Research Institute Viruses, Infections/Immunity, Viruses and Asthma research program, Newcastle. He said the effect sizes in the study were modest, but the relatively high prevalence of both asthma and subfertility, and the potential to modify these risk factors, meant the findings were important.
'At this stage, we can inform people that asthma is associated with subfertility, and that subfertility and ART are risk factors for the development of childhood asthma,' he wrote.
'Asthma and pregnancy seem to fall between two disciplines, and so guidelines in this area are not optimal. There is clearly more to do to improve what and how we communicate what we know about one of the fundamental questions that is asked by people with asthma, namely will my child get asthma?'
Thorax 2018; doi:10.1136/thoraxjnl-2018-211886.
Thorax 2018; doi:10.1136/thoraxjnl-2018-212598.