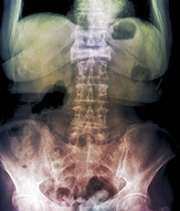 Disruptions to denosumab dosing regimens may increase fracture risk
By Melanie Hinze
New research reinforces the need for timely injections of denosumab for osteoporosis treatment every six months, an Australian expert has told Medicine Today, who added that dosing delays should be no more than four to five weeks.
Professor Peter Ebeling, Head of the Department of Medicine in the School of Clinical Sciences, at Monash Health, Monash University, Melbourne, said the research 'confirms that if the delay is longer than four months, the risk of vertebral fractures is greatly increased compared with on-time denosumab dosing.'
Published in Annals of Internal Medicine, the population­-based cohort study was designed to investigate disruptions to osteoporosis drug dosing regimens, which, as pointed out in an accompanying editorial, may be more likely during the current COVID­-19 pandemic.
The study included 2549 patients aged 45 years or older who initiated denosumab therapy for osteoporosis. Patients were recruited from The Health Improvement Network UK primary care database from 2010 to 2019.
The authors used observational data to emulate a trial of three dosing intervals. These were subsequent denosumab injections: given within four weeks after the recommended date of injection (on time), delayed by four to 16 weeks (short delay) and delayed by more than 16 weeks (long delay).
Although not significant, a short delay was associated with almost 1.5 times the risk of a vertebral fracture. However, a long delay increased vertebral fracture risk by almost four times. Although this study was not able to conclude that frac­ture risk was increased at other anatomical sites, the authors said this could not be ruled out.
'This observational study adds to what we know about fracture risk after stopping denosumab from the FREEDOM and FREEDOM extension studies, which were randomised controlled trials with a higher level of evidence,' Professor Ebeling said.
'Analysis of those trials showed that multiple vertebral fractures were numerically increased in patients who stop­ped denosumab and that this increase was seen as early as five weeks after the missed dose.'
He noted that in the current study once again only vertebral fractures were increased but this only occurred 16 weeks after the missed dose and not after a shorter period.
The authors stated that although denosumab was an effective antiresorptive drug for the treatment of osteoporosis, discontinuation resulted in accelerated bone turnover, rapid loss of bone mineral density and subsequent increased risk of fracture.
Ann Intern Med 2020; doi:10.7326/M20-0882.
Ann Intern Med 2020; doi:10.7326/M20-4802.