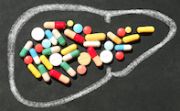 © PEPIFOTO/ISTOCKPHOTO.COM
Drug-induced liver injury: rise in cases linked to herbal or dietary supplements
By Melanie Hinze
In a single-centre study, involving a Sydney liver transplant referral centre, the number of hospitalisations for drug-induced liver injury (DILI) increased in the 11 years to 2020, as did the proportion of cases linked to herbal or dietary supplements.
The study, published in the Medical Journal of Australia, was a retrospective electronic medical record data analysis of adults admitted with DILI to the Gastroenterology and Liver Centre at the Royal Prince Alfred Hospital, Sydney, from 2009 to 2020. During this time, 115 patients were admitted with paracetamol-related DILI and 69 with nonparacetamol DILI.
The most common nonparacetamol medications implicated were antibiotics (28%), herbal and dietary supplements (22%), antituberculosis medications (9%) and anticancer medications (7%).
Although the number of nonparacetamol DILI admissions remained fairly stable across the study period, the proportion linked with herbal and dietary supplements increased from 15% during 2009 to 2011 to 47% during 2018 to 2020.
Additionally, 90-day transplant-free survival was higher among patients with paracetamol-related DILI (86%) than it was among those with nonparacetamol DILI (71%), or with herbal and dietary supplement-related cases (59%).
Dr Kelly Hayward, pharmacist at the Princess Alexandra Hospital, and Clinical Research Fellow at the Centre for Liver Disease Research, The University of Queensland, Brisbane, agreed with the study authors' call for improved regulatory oversight of herbal and dietary supplements.
Dr Hayward also supported the authors' recommendations for targeted education about the potential dangers of traditional medicines for culturally and linguistically diverse communities. She added that an equally important opportunity to improve safety rests in the dietary supplement sphere, as half the reported cases of supplement-associated DILI were linked to use of anabolic steroids, bodybuilding and weight-loss supplements.
'Many cases of nonparacetamol-related DILI involved medicines that are routinely prescribed in general practice, such as antibiotics, statins and antidepressants, in addition to herbal and dietary supplements', she added.
Paracetamol-related DILI is another ongoing and complex problem. Dr Hayward identified community-based practitioners including GPs, pharmacists and nurses who could help to avoid accidental overdose by providing appropriate education when prescribing or recommending paracetamol to patients.
The study authors concluded that DILI remains an important clinical problem that needs further investigation, regulatory changes and patient and community education.
Med J Aust 2021; doi: 10.5694/mja2.51173.