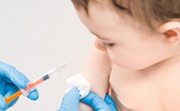 © RED PIXEL/STOCK.ADOBE.COM. MODEL USED FOR ILLUSTRATIVE PURPOSES ONLY
Early childhood vaccine exposure does not increase risk of non-vaccine-targeted infections
By Nicole MacKee
Vaccine exposure in early childhood does not increase the risk of non-vaccine-targeted infections, such as gastrointestinal and respiratory tract infections, according to US research published in the JAMA.
To address parental concerns that exposure to a growing number of vaccines in early childhood might weaken children's immune response, researchers conducted a nested case-control trial among 944 children. The children were enrolled in six integrated health organisations that were part of the Vaccine Safety Datalink research collaboration.
The researchers reviewed emergency department and inpatient visits to identify non-vaccine-targeted infections – including lower and upper respiratory tract infections, gastrointestinal infections and other viral and bacterial infections – in 193 children aged 24 to 47 months (the case group). They matched each of these children with up to four control children who had not developed non-vaccine-targeted infections at 24 to 47 months of age (751 children), and then calculated the mean cumulative vaccine antigen exposure of the study population from birth to 23 months of age. This was estimated as the total number of immunogenic proteins and polysaccharides in each vaccine.
In their first 23 months, children in the case group had an estimated mean cumulative vaccine antigen exposure of 240.6, and those in the control group had an exposure of 242.9. The between-group difference of -2.3 in cumulated antigen exposure (95% confidence interval, -10.1-5.4; p=0.55) was not significant, the researchers reported.
The research builds on the findings of a large Danish cohort study, published in 2005, that also found no increased risk of infections not targeted by vaccines among children who had had five vaccines against seven diseases.
Professor Peter McIntyre, Professorial Fellow with the National Centre for Immunisation Research and Surveillance and Professor in the Discipline of Child and Adolescent Health and School of Public Health, The University of Sydney, said it was reassuring to see two rigorous studies showing no evidence of increased risk of non-vaccine-targeted infections.
'It will be helpful to be able to tell parents that it is not just one large study, there is now a second large study, that has been done to a high standard, showing that there is no evidence to support that concern,' Professor McIntyre told Medicine Today.
He said a strength of the US study was the level of detail researchers were able to access. '[The researchers] were able to look very closely at the sample, and to determine that the non-targeted infections were definitely the infections they were looking for,' he said.
Although acknowledging that the research was observational, Professor McIntyre said the researchers had gone to great lengths to eliminate bias. 'There will always be limitations in any study like this, but within those limitations, they have done a good job,' he said.
Professor McIntyre said the findings would help clinicians to allay the concerns of parents who were 'genuinely worried and uncertain' about the potential impact of vaccines and were considering delaying vaccinations.
He added, however, that it would always be very difficult to convince the small number of parents who were locked into the belief that immunisation was harmful.
JAMA 2018; 319: 906-913.
JAMA 2018; 319: 870-871.