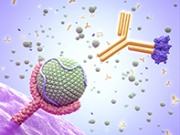 Evolocumab added to statin therapy reduces cardiovascular events, study finds
By Jane Lewis
Adding the monoclonal antibody evolocumab to statin therapy further lowers low-density lipoprotein (LDL) cholesterol levels and significantly reduces the risk of cardiovascular events, suggests new research published in The New England Journal of Medicine.
'These findings show that patients with atherosclerotic cardiovascular disease benefit from lowering of LDL cholesterol levels below current targets,' the international research team concluded.
Commenting on the findings, Professor Gerald Watts, Director of the Metabolic Research Centre and Lipid Disorders Clinic, Royal Perth Hospital, Perth, said the trial was 'a very important study' that demonstrates the potential benefits of lowering LDL cholesterol to lower-than-target values. 
'This study shows that for patients who are not at target, putting them on a PCSK9 [proprotein convertase subtilisin/kexin type 9] inhibitor and lowering their LDL levels can reduce the incidence of major cardiovascular events,' he said. 'It also completely validates PCSK9 as a therapeutic target.' 
The Further Cardiovascular Outcomes Research with PCSK9 Inhibition in Subjects with Elevated Risk (FOURIER) trial involved 27,564 patients on high-intensity (69.3%) or moderate-intensity (30.4%) statin therapy, with clinically evident atherosclerotic cardiovascular disease. In the double-blind trial, patients were randomised to treatment with evolocumab 140 mg every two weeks or 420 mg monthly by subcutaneous infusion or matching placebo. During a median of 2.2 years' follow up, evolocumab treatment lowered LDL levels by 59% from baseline (from a median of 2.4 mmol/L to 0.78 mmol/L) compared with placebo. 
Evolocumab also significantly reduced the risk of cardiovascular events, with a 15% reduction in the risk of the primary composite end point of cardiovascular death, myocardial infarction, stroke, hospitalisation for unstable angina or coronary revascularisation, and a 20% reduction in the risk of the key secondary end point of cardiovascular death, myocardial infarction or stroke. Injection-site reactions were the only adverse events significantly more common in patients receiving evolocumab (2.1% vs 1.6%).
According to Professor Watts, current treatment guidelines 'will probably be changed within the next two years' as a result of the trial (pending results of the ODYSSEY trial of alirocumab), with the LDL target for high risk patients 'dropped to less than 1.4 mmol/L, or even less than 1.2 mmol/L.' However, access to evolocumab is an issue because of its high cost, he said.
'Only about 75% of participants in the FOURIER trial were on high-dose statin therapy,' he observed. Patients with coronary heart disease and high LDL should be given high-intensity statin treatment plus ezetimibe before a PCSK9 inhibitor is considered, he advised.
The author of an accompanying editorial described the study as 'a landmark trial,' but cautioned that the efficacy of PCSK9 inhibition treatment started shortly after an acute event remains to be determined, as does its efficacy in other categories of patients at high cardiovascular disease risk.
N Engl J Med 2017; doi:10.1056/NEJMoa1615664.
N Engl J Med 2017; doi: 10.1056/NEJMe1703138. 
Picture credit: © Maurizio De Angelis/SPL. PCSK9 inhibitors (orange) bind to PCSK9 (purple), thereby preventing PCSK9 from binding to LDL receptors (pink). LDL receptors can continue to clear LDL cholesterol particles (green).