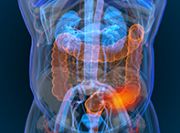 © APPLEDESIGN/STOCK.ADOBE.COM
Excessive alcohol consumption strongly linked to CRC risk, finds study
By Melanie Hinze
Excessive alcohol consumption has been shown to be strongly associated with early-onset colorectal cancer (CRC) risk independent of polygenic risk score (PRS) levels in new research published in eClinicalMedicine.
This finding has led the researchers to propose that avoiding heavy drinking could reduce CRC risk to the equivalent of having a much lower genetically determined risk – and this was particularly so for early-onset CRC.
The researchers assessed the association between alcohol consumption and CRC across PRS levels among 5104 patients who had CRC and 4131 controls from a large population-based case-control study. They compared the effects of alcohol consumption and PRS on CRC risk using a newly developed metric known as the 'genetic risk equivalent (GRE)', which helped them to compare risks from environmental and genetic factors. 
Both high alcohol consumption and, to a lower extent, alcohol abstinence were associated with increased CRC risk. Compared with low alcohol consumption of between 0.1 and 25 g/day, a lifetime average alcohol consumption of 25 g/day or more was associated with a 1.8 times increased risk of early-onset CRC and a 1.3 times increased risk of late-onset CRC.
The estimated impact of high lifetime alcohol consumption was equivalent to the effect of having 47 percentiles higher PRS.
Associate Professor Cherry Koh, Colorectal Surgeon at Royal Prince Alfred Hospital and Chris O'Brien Lifehouse, Sydney, said this study, together with others, collectively added to our knowledge and understanding of the role that alcohol plays in carcinogenesis.
'Heavy alcohol intake probably does increase the risk of CRC, but it is not clear why it would increase the risk of early-onset CRC more than late-onset CRC,' she said, adding that the pattern of drinking and the effect of premixed drinks with added sugar currently remained unclear and may be important.
'The fact that the increased risk of CRC with higher alcohol intake persisted, even after controlling for the lower other risk profiles among the control group (for example, diet, lifestyle, aspirin use and scope [history]), would really suggest that alcohol does increase risk of CRC,' she said.
'With studies like these, recall bias is always an issue. However, all things considered, this study was well conducted with very little missing data and known risks factors were comprehensively assessed. All of these make this a strong study. Since inception of this study, excessive childhood antibiotic exposure and sugar consumption have come to light and it would have been interesting if these had also been assessed,' Professor Koh noted. 
She concluded that with these findings, GPs would be able counsel patients with higher risk family history to reduce alcohol intake. 
eClinicalMedicine 2022; 49: 101460. https://doi.org/10.1016/j.eclinm.2022.101460.