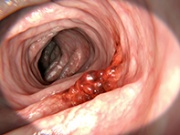 Familial colorectal cancer risk in half siblings similar to that in siblings
By Nicole MacKee
Half siblings with a family history of colorectal cancer have a similar risk of developing colorectal cancer to that of siblings, Swedish researchers have reported in the BMJ.
In a comprehensive cohort study covering more than 16 million Swedish residents born after 1931, along with their biological parents, the researchers found that half siblings with a family history of colorectal cancer had a 6% lifetime cumulative risk of colorectal cancer, while in siblings with a family history the lifetime risk was 7%. The figures represent a significant 1.5- and 1.7-fold increased risk, respectively, over those without a family history of colorectal cancer (4% risk).
'On the basis of our results, having a family history of colorectal cancer in a half sibling might be handled similarly to having it in a sibling (or in general a first-degree relative),' they wrote.
The researchers also found that family history of colorectal cancer in a half sibling, with no affected first-degree relative, had a much stronger association with increased risk than in other second-degree relatives.
Professor Allan Spigelman, Director of St Vincent's Hereditary Cancer Clinic, Sydney, welcomed the findings from this 'very strong' study.
However, he said, the researchers had missed an opportunity to have a timely and significant impact on patient outcomes by not notifying study participants of their increased relative risk of developing colorectal cancer.
The researchers said there were no plans to directly advise study participants of the findings, but the results would be disseminated to healthcare professionals, the general public and relevant patient groups.
'This is a comprehensive project, but it lacks an effector arm,' Professor Spigelman said, adding that findings could be incorporated into guidelines, but adherence to guidelines was variable.
'Go ahead with the guidelines, but also go to the patients and families that you have identified in the research to advise them that their relative risk is greater than that of the general population,' he said. 'I can't recall a single study that does this. I think it's the ethics approval process that stops us and/or resources are not available to allow for this.'
Australia's clinical practice guidelines for the prevention, early detection and management of colorectal cancer were updated in 2018, which was the first major update since 2005 (Med J Aust 2018; 209 (10) doi: 10.5694/mja18.00142).
BMJ 2019; 364: l803.