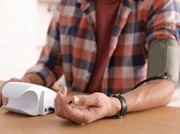 © NEW AFRICA/STOCK.ADOBE.COM
Few home blood pressure monitors bought online are validated
By Rebecca Jenkins
Most home blood pressure (BP) monitoring devices available online have not been validated, Australian research finds, with worrying implications for cardiovascular risk management.
An internet search found 59 online businesses selling 972 unique devices for home BP monitoring to Australians but only 6.6% were clinically validated with peer­-reviewed data or claimed equivalence to a previously validated device.
Of the 278 upper-­arm cuff devices for sale, only 51 (18.3%) were validated or claimed equivalence. When researchers looked at the 162 wrist cuff devices, they found 13 (8%) were validated or claimed equivalence, while none of the 532 wrist­-band wearable devices were validated.
The median cost of a device was $47.09 with validated devices significantly more expensive than nonvalidated devices, researchers reported in Hypertension.
'Importantly, the e­-commerce websites, including large global companies (e.g. eBay, Amazon), stocked most of the BP devices available for purchase (92.5%), but only 5.5% were validated,' they wrote.
'The preponderant online availability of non-­validated wrist-­band wearable BP devices is a concern because these are not trust­worthy for diagnosis or follow up of raised BP. Most of the BP devices sold online should not be used for clinical decision­-making.'
Lead author Professor James Sharman, Deputy Director of the Menzies Institute for Medical Research, University of Tasmania, said the findings emphasised the need for public education and better regulation of the device industry.
He urged doctors to ask whether patients were using validated devices, noting people could use a Menzies Institute online resource to check dif­ferent device models (menzies.utas.edu.au/documents/pdfs/blood­pressure­devices.pdf).
'The prices vary but in general an appropriately vali­dated monitor may cost around $100,' he told Medicine Today.
Heart Foundation Risk Reduction Manager Natalie Raffoul said the Heart Founda­tion supported the need for regulations that mandated independent validation of BP devices according to ISO standards.
Its latest hypertension management guidelines did not recommend finger and/or wrist blood pressure measuring devices, she told Medicine Today.
'Yet this research shows more than half of the unique BP devices available for purchase were wrist­-band wearables, none of which were actually validated,' she said.
The Heart Foundation recommended patients used a cuff that properly fitted the top half of their arm and took measurements for seven days (minimum of five days) at around same time in the morning or evening.
Readings should be taken before eating, taking medication or exercising vigorously and patients should not take a reading if they feel uncom­fortable, stressed or in pain.
To take a reading, sit quietly for five minutes without distractions and ensure both feet are flat on the ground with the top half of the arm bare and back and arm supported.
Patients should take two readings, one minute apart, and record each measure in a paper diary or spreadsheet that they can share at their next GP visit.
Hypertension 2020; 75: 00-00; doi:10.1161/HYPERTENSIONAHA.120.14719.