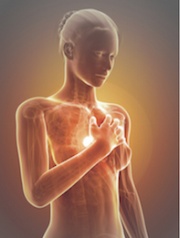 Fewer young women with MI receiving drug therapy
By Bianca Nogrady
Young women are significantly less likely than young men to be on optimal drug therapy one year after an acute myocardial infarction (MI), new Canadian data suggest.
A retrospective population-based cohort study of 12,261 patients who survived for at least one year after an acute MI showed women of all ages were significantly less likely to start appropriate pharmaceutical treatment than men. This was particularly pronounced in younger patients, with men aged under 65 years being 38% more likely to initiate appropriate drug therapy compared with women in the same age bracket, according to the study findings, published in Circulation: Cardiovascular Quality and Outcomes.
The greatest disparity between men and women in appropriate treatment initiation was seen within two months of discharge, and remained after accounting for income, ethnicity, comorbidities, in-hospital procedures and previous medication use.
Researchers did not find any significant differences in adherence to treatment across age groups or between men and women.
Overall, only one-third of patients had filled all appropriate prescriptions for at least 80% of the first year.
'In this study, we show that the sex disparity in pharmacotherapy initiation may not be universal but rather limited to younger age groups,' the authors wrote.
'Cardiovascular disease among younger women has only recently received research attention, or it is possible that the perception of risk for adverse outcomes – by physicians and patients – is still skewed for younger women, who are seen as healthy and at low risk,' they wrote.
Commenting on the study findings, cardiologist Associate Professor Clara Chow said it was not clear whether the lack of treatment initiation was driven by physicians or patients.
'The literature around medical therapy for women with MI is not as strong as for men,' Professor Chow, Director of the Cardiovascular Division at The George Institute of Global Health, Sydney, said, noting also that clinical trials have involved many more men than women.
'I don't believe that we should be treating women any differently if they have had a heart attack but this does change the perceptions of both physicians and patients.'
Professor Chow, also at Westmead Hospital, said women with acute MI often present differently from men, and also show a different pathophysiology of disease, such as having less obstructive coronary artery disease.
'That makes it difficult for people to fit them into the category of standard atherosclerotic coronary heart disease and that might mean some people don't think they should be on some of the medical therapy.'
However, given the growing body of evidence showing that women have worse MI outcomes than men, Professor Chow said research was needed to address this discrepancy in treatment initiation.
Circ Cardiovasc Qual Outcomes 2015,
doi: 10.1161/CIRCOUTCOMES.115.001987.
Picture credit: © Sebastian Kaulitzki/Shutterstock.