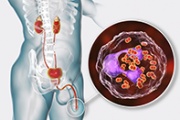 Frequent STI testing recommended for men using HIV pre-exposure prophylaxis
By Nicole MacKee
Frequent testing for sexually transmitted infections (STIs) is crucial among gay and bisexual men using HIV pre-exposure prophylaxis (PrEP), say Australian researchers who have found a high concentration of STIs among some using PrEP.
The Pre-Exposure Prophylaxis Expanded (PrEPX) Study, published in the JAMA, used data from the Australian Collaboration for Coordinated Enhanced Sentinel Surveillance (ACCESS) clinic network to evaluate 2981 individuals using PrEP. Most participants identified as gay or bisexual men (98.5%).
During the study, participants received daily oral tenofovir disoproxil fumurate and emtricitabine for HIV PrEP, and quarterly HIV and STI testing.
Over a mean follow up of 1.1 years, 2928 STIs were diagnosed among 1427 individuals (48% of participants): 1434 cases of chlamydia, 1242 cases of gonorrhoea and 252 cases of syphilis. The researchers found 25% of participants (736) accounted for 76% of STIs (2237).
Pre-enrolment testing data were available for 1378 participants, and after adjustment for testing frequency, the researchers found an increased incidence of STIs of about 12% from one-year pre-enrolment to follow up.
Younger age, greater partner number and group sex were associated with greater STI risk, but inconsistent condom use was not, the researchers said.
Professor Basil Donovan, Head of the Sexual Health Program at the Kirby Institute, Sydney, applauded the researchers for their sophisticated analysis, and said it was important to note an increasing incidence of STIs had been identified before PrEP became available.
Professor Donovan said the study findings highlighted the need for greater access to public sexual health services across Australia. Although NSW had 30 services across the state, other states and territories had limited services, he said. Victoria, for example, has one centralised service in Melbourne and a small clinic in Geelong.
'GPs certainly do the bulk of [sexual health consultations], but they can't do it in isolation; they need support, they need training, and they need help with difficult cases,' said Professor Donovan, who is a cofounder of the ACCESS project.
Professor Donovan said it was also interesting to see that condom use did not provide protection against contracting gonorrhoea. He said Melbourne researchers had collected 'increasingly credible' evidence that gonorrhoea may be transmitted by more means than unprotected anal and vaginal intercourse and that it might even include kissing.
He said a gonorrhoea vaccine was urgently needed and the Kirby Institute, in association with Griffith University, hoped to soon trial a new vaccine.
JAMA 2019; 321: 1380-1390.