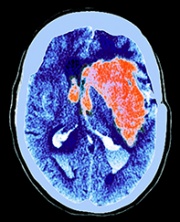 Further evidence supporting NOACs for reducing stroke risk in patients with AF
By Nicole MacKee 
Evidence is growing to support the role of non-vitamin K antagonist oral anticoagulants (NOACs) in reducing stroke risk in patients with atrial fibrillation (AF), says an Australian expert following the publication of further analysis of data from the Apixaban for Reduction in Stroke and Other Thromboembolic Events in Atrial Fibrillation (ARISTOTLE) trial. 
In the ARISTOTLE trial, patients taking apixaban were shown to be 58% less likely to experience an intracranial haemorrhage (ICH; 0.33% per year) than patients taking warfarin (0.80% per year). In the current trial, published online in the journal Blood, researchers used data from the ARISTOTLE trial to analyse the frequency and characteristics of ICH, factors associated with ICH risk and outcomes following ICH overall and by randomised treatment. 
The researchers identified ICH in 174 of the ARISTOTLE trial's 18,140 patients with nonvalvular AF and at least one additional stroke risk factor. Most ICH events were spontaneous (71.2%), with traumatic events noted in 28.8% of cases. ICH mortality rates were similarly high in both the apixaban- and warfarin-treated patients, with a 30-day mortality of 43.3%. They found that the reduced risk of ICH with apixaban occurred regardless of ICH type and location. 
The researchers also noted that almost 80% of warfarin-treated patients with ICH had an INR within or below therapeutic levels in the fortnight preceding the event. 
The researchers reported that concomitant aspirin should be avoided because it was independently associated with an increased risk of ICH, with 31% of patients experiencing an ICH taking aspirin the day before the haemorrhage. Of the patients who had an ICH, only half had had a formal indication for taking aspirin at baseline. 
Professor Ross Baker, Director of the West Australian Centre for Thrombosis and Haemostasis (WACTH) at Murdoch University, Perth, said the findings added to evidence that NOACs were associated with a reduced risk of intracerebral bleeding, and highlighted the importance of avoiding concomitant aspirin in patients with AF taking anticoagulants. 
'That's the clear message,' Professor Baker said. 'Half of the patients in the study did not need to be on aspirin, but continued on it after commencing anticoagulation therapy.'
The researchers said concerns about the current lack of a reversal agent for apixaban should not be a major consideration in prescribing decisions, because a key advantage of NOACs was their comparatively short half-life.
Professor Baker, who is also Consultant Haematologist at the Perth Blood Institute, told Medicine Today it was important to target therapy appropriately. 'The message is picking the right people for the NOACs – [patients with] normal renal function,' he said. 'Monitoring the renal function is important because the drug accumulates [in patients with impaired renal function] and, at excessive levels, contributes to bleeding.'
Professor Baker – who chairs the Anticoagulation Reversal and Events Study (ARES), which is collecting real-world data for anticoagulation-related haemorrhage across Australia and New Zealand – said it was crucial that an anticoagulant-related bleeding presentation was recognised as a major life-threatening episode in all patients. 
'If someone presents with a haemorrhage, it's a sentinel event and, even with warfarin where we do have an antidote, the mortality is high,' he said. 'This is an important practice point that is under-recognised and more research is needed to help understand how we can do better.' 
Blood 2017; doi: https://doi.org/10.1182/blood-2016-08-731638.
Picture credit: © SPL. Intracranial haemorrhage (MRI scan).