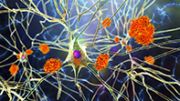 Global prevalence of young-onset dementia assessed
By Nicole MacKee
Almost four million people globally are living with young-onset dementia, with most cases occurring in the 60- to 64-year age range, researchers have reported in JAMA Neurology.
A systematic review and meta-analysis, which evaluated 74 individual studies with more than 2.7 million participants, showed an overall global prevalence of young-onset dementia of 119 per 100,000 people aged 30 to 64 years (3.9 million people, based on 2019 population estimates).
The prevalence increased from 1.1 per 100,000 population in people aged 30 to 35 years, up to 77.4 per 100,000 population in those aged 60 to 64 years.
The researchers reported that age-standardised prevalence was similar in men and women and highest in upper-middle-income countries. Alzheimer's disease dementia was the most common cause, followed by vascular dementia and frontotemporal dementia.
Professor Leon Flicker, Executive Director of the WA Centre for Health and Ageing, said this research was timely because there was a lot of uncertainty about the prevalence of young-onset dementia.
'A lot of the cases of young-onset dementia are between 60 and 64, and if you look at the absolute prevalence, that age group has almost four times the prevalence of the 55- to 59-year age group [with an estimated prevalence of 19.2 per 100,000 population],' said Professor Flicker, who contributed to the JAMA Neurology research through his membership of the Young Onset Dementia Epidemiology Study Group.
'One of the biggest problems with young-onset dementia is that clinicians don't think about the diagnosis at all in such young patients, and that's particularly a problem with Alzheimer's disease dementia,' Professor Flicker told Medicine Today.
He said young-onset dementia was particularly challenging because it came at a time when people were often still in the workforce or had younger families.
'The services are geared up for older people with dementia, so they don't necessarily fit [this younger group] very well,' Professor Flicker said.
He added that dementia was a particular concern for Aboriginal and Torres Strait Islander people, with his research group showing in 2008 that Aboriginal and Torres Strait Islander people living in the Kimberley, WA, were at up to five times the risk of developing dementia than non-Aboriginal people.