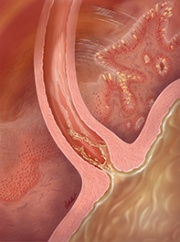 © SCIENCE SOURCE/DNA ILLUSTRATIONS/DIOMEDIA.COM
GORD treatments may reduce oesophageal cancer risk
By Melanie Hinze
Effective medical or surgical treatment of gastro-oesophageal reflux disease (GORD) may reduce the risk of oesophageal cancer, according to a study published in JAMA Oncology.
The study found steadily decreasing risk estimates of oesophageal adenocarcinoma after both antireflux medication and antireflux surgery, with levels of risk almost equal to that of the background population 15 years or more after treatment.
Professor Tim Price, Head of Unit, Haematology and Oncology and Head of Clinical Cancer Research at The Queen Elizabeth Hospital Campus, Adelaide, said, 'We know there is a risk of oesophageal cancer with chronic reflux and this trial supports active intervention to treat chronic reflux where there are no contraindications.'
'The study suggests treatment can be either long-term medical therapy with proton pump inhibitors or surgical intervention. The authors do note that there may have been some differences between the two populations with higher- risk patients having surgery. However, ultimately we see that oesophageal cancer risk can be reduced by diagnosis and subsequent treatment of chronic reflux disease.'
He added that an individualised approach may ultimately be appropriate when deciding between medical and surgical therapy.
The study was a retrospective, population-based cohort, which used health data records from 1964 to 2014 for almost one million patients with a registered diagnosis of GORD from Denmark, Finland, Iceland, Norway and Sweden.
Of the 48,414 individuals who underwent antireflux surgery, 177 (0.4%) developed oesophageal cancer during follow up. Similarly, of the 894,492 individuals who received only antireflux medication, 2368 (0.3%) developed cancer of the oesophagus during follow up. In both groups, the risk of oesophageal cancer decreased over time until it was almost equal to the background population at 15 years and beyond.
'This large population-based study highlights the importance of managing chronic reflux, which is increasing in the population, partially related to higher rates of obesity in the community', Professor Price told Medicine Today.
JAMA Oncol 2018; doi:10.1001/jamaoncol.2018.3054.