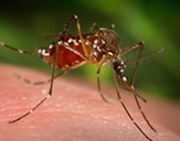 Growing need to recognise and manage severe dengue fever
By Jane Lewis
A significant proportion of returning Australian travellers with dengue fever have unrecognised signs of severe disease, reports a study published in the Medical Journal of Australia.
Although the 2009 revised World Health Organization (WHO) guidelines are 'a helpful tool for managing patients with dengue,' there is a lack of awareness of the warning signs of severe dengue among Australian medical practitioners, the study authors suggested.
Commenting on the study, Clinical Professor David Smith, from the Faculty of Health and Medical Sciences, University of Western Australia, Perth, said dengue fever is 'always an unpleasant illness' and 'at its most severe, is a potentially fatal illness if not recognised early and treated properly.'
'Each year in Australia we diagnose thousands of cases of dengue in returned travellers and other people entering Australia from areas of dengue activity, and the numbers continue to rise,' he said. Patients often require a short period of hospitalisation, with longer periods for more severe cases, he added.
Based on a retrospective case series analysis of patients with confirmed dengue hospitalised at one of four Australian tertiary hospitals, the study included 208 patients (median age 32 years) presenting with a range of symptoms, the most common of which were fever and headache, followed by rash and myalgia. According to the WHO criteria, 84 patients (40%) presented with warning signs that may predict life-threatening complications, most often mucosal bleeding (22% of all patients) and abdominal pain (21%). The most common laboratory findings were leucopenia, thrombocytopenia and elevated liver enzyme levels.
Warning signs developed in patients with primary infection as well as those with evidence of previous exposure, and clinicians 'should be mindful that travellers without prior exposure to dengue can also develop severe dengue,' the authors cautioned. Documented reference to the WHO guidelines as guiding management was evident in only 5% of cases, and NSAIDs were prescribed for 22% of patients, increasing the risk of haemorrhage, they reported.
'Doctors should consider dengue in any febrile traveller returning from areas with dengue activity, along with other travel-acquired febrile illnesses such as malaria, typhoid, chikungunya and measles,' Professor Smith told Medicine Today. 'Patients with dengue who return or travel to north Queensland or the Torres Strait Islands are of extra concern, as these areas have the mosquito species that transmit the virus. They can introduce it into the local mosquito populations and cause an outbreak of dengue.' 
The author of an accompanying editorial agreed that doctors 'must be alert to the possibility of dengue,' and suggested that specialist advice be sought when diagnosis was in doubt. Triage for hospital admission should be based on the WHO guidelines, with particular attention to the warning signs of severe dengue, the editorialist added.
MJA 2017; doi: 10.5694/mja16.01056.
MJA 2017; doi: 10.5694/mja16.01450.
Picture credit: © Phanie/CDC-Gathany/Diomedia.com