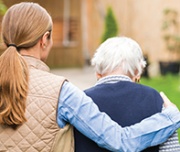 The growing problem of dementia: what can be done?
By Jane Lewis
A commission launched by the Lancet to review all available evidence on dementia has produced a comprehensive set of recommendations on prevention, management and care. A panel of 24 international experts – including one Australian representative, Professor David Ames – authored the report, which aimed to summarise current knowledge about what can be done now to prevent dementia and to help people with dementia and their families.
'The report is the result of 18 months of work, and represents an up­-to-­date summary of all available published evidence,' commented Professor Ames, consultant psychiatrist at St George's Hospital, Melbourne, and Emeritus Professor at the University of Melbourne and National Ageing Research Institute. 'It is freely available for download, and will be a useful resource for health professionals and service planners,' he told Medicine Today.
According to Professor Ames, key among the points made in the report are that 'up to one-­third of dementia may be preventable (particularly via control of vascular risk factors), available treatments could be more widely utilised, and supporting and educating family members who care for people with dementia is worthwhile and effective.' 
The report's authors advise clinicians to 'be ambitious about prevention', highlighting the importance of active treatment of hypertension in middle-­aged and older people. 'Interventions for other risk factors including more childhood education, exercise, maintaining social engagement, reducing smoking, and management of hearing loss, depression, diabetes, and obesity might have the potential to delay or prevent a third of dementia cases,' they stated. 
The report suggests that people with Alzheimer's disease or dementia with Lewy bodies be offered cholinesterase inhibitors at all stages, or memantine for severe dementia, to treat cognitive symptoms, and recommends that pharmacological management of neuropsychiatric symptoms should be reserved for individuals with more severe symptoms. 
It also makes the point that 'good dementia care spans medical, social, and supportive care;' it should be tailored to the individual and incorporate support for family carers. Other key messages relate to helping people plan for the future, protecting those with dementia, providing end-­of-­life care and technological interventions that have the potential to improve care delivery.
The author of a comment published with the report said the commission 'makes a timely evidence­-driven contribution to global efforts to improve the lives of people with dementia and their carers, and limit the future impact on societies.' However, the commentator expressed concern about equity, suggesting 'the dementia epidemic will be concentrated in [low-­income and middle-­income countries] where awareness is low, and resources to meet the demand are fewest.'
Lancet 2017; http://dx.doi.org/10.1016/S0140-6736(17)31363-6.
Lancet 2017; http://dx.doi.org/10.1016/S0140-6736(17)31756-7. 
Picture credit © Obencem/DepositPhotos.
Models used for illustrative purposes only.