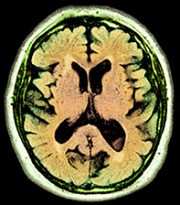 © DU CANE MEDICAL/SPL. Brain of patient with alcoholic dementia (MRI scan).
Heavy alcohol use 'a major risk factor' for all dementia, especially early onset
By Jane Lewis
A nationwide observational study of more than one million adults diagnosed with dementia, published in The Lancet Public Health, has found that alcohol use disorders are a major risk factor for the onset of all types of dementia, especially early-onset dementia.
The authors of an accompanying comment described the study as 'immensely important', saying it 'highlights the potential of alcohol-use disorders, and possibly alcohol consumption, as modifiable risk factors for dementia prevention.'
Speaking to Medicine Today, Professor Henry Brodaty, Scientia Professor of Ageing and Mental Health, Centre for Healthy Brain Ageing (CHeBA), UNSW Sydney, said heavy alcohol use was well known to be 'bad for your brain as well as your liver and blood pressure.' The current study 'confirms this by analysing a very large database of people in France.'
The study was based on a nationwide retrospective cohort of more than 31 million adults discharged from hospital over a five-year period, of whom 1,109,343 were diagnosed with dementia. Of 57,353 (5.2%) cases of early-onset dementia (diagnosed under the age of 65 years), most were either alcohol-related by definition (38.9%), or patients qualified for a diagnosis of alcohol-use disorders (17.6%). Alcohol-use disorders were the strongest modifiable risk factor for dementia onset (adjusted hazard ratio [aHR], 3.34 for women and 3.36 for men) and remained associated with dementia onset (aHR, greater than 1.7) in sensitivity analyses on dementia case definition or older study populations. Alcohol-use disorders were also significantly associated with all other risk factors for dementia onset.
'Screening, brief interventions for heavy drinking, and treatment for alcohol-use disorders should be implemented to reduce the alcohol-attributable burden of dementia,' the authors advised. They added that clinicians 'should be better aware of the role of alcohol-use disorders in dementia onset over the lifetime, which seems to be a risk factor often omitted.'
Professor Brodaty noted that the study did not tell us whether mild-to-moderate alcohol provided some protection against age-related neurodegeneration. In addition, he said 'definitions of mild or moderate alcohol intake differ internationally' and 'which type of alcohol is good or bad is not well defined.'
Even so, 'the authors conclusion that screening for heavy drinking should be part of regular medical care, with intervention or treatment being offered when necessary and introduction of alcohol policies, makes good sense.'
Lancet Public Health 2018; http://dx.doi.org/10.1016/S2468-2667(18)30022-7.
Lancet Public Health 2018; http://dx.doi.org/10.1016/S2468-2667(18)30031-8.