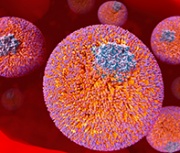 © JUAN GAERTNER/SHUTTERSTOCK
High LDL-cholesterol linked to increased CVD mortality even in low-risk populations
By Bianca Nogrady
High LDL-cholesterol levels appear to be independently associated with an increased risk of cardiovascular disease (CVD) mortality even in individuals at low risk of atherosclerotic CVD, according to new research published in Circulation. However, an expert has questioned whether the research points to a benefit from more aggressive cholesterol lowering in this group.
The US Cooper Center Longitudinal Study followed 36,375 participants (72% men) with no history of CVD or diabetes, and with a less than 7.5% 10-year risk of an atherosclerotic CVD event, for a median of 26.8 years.
Researchers saw that even in this relatively low CVD-risk group, individuals with LDL-cholesterol levels of 160 to 189 mg/dL (4.14 to 4.89mmol/L) had a 70% higher risk of CVD mortality compared with those with an LDL-cholesterol level less than 100mg/dL (2.59mmol/L), after adjusting for atherosclerotic risk factors.
Those with LDL-cholesterol levels more than 190 mg/dL (4.91 mmol/L) showed a 50% greater risk of CVD mortality.
These associations persisted even when the authors limited their analysis to individuals with below a 5% 10-year risk of CVD.
'In addition, few in the present cohort were >60 years of age, underscoring the prognostic impact that elevated apolipoprotein B-containing lipoproteins in young and middle adulthood have on CVD and CHD mortality decades later,' the authors wrote.
Commenting to Medicine Today, Associate Professor Julie Redfern from The University of Sydney's Westmead Applied Research Centre, said that while the study further confirmed that higher LDL was associated with an increased CVD risk compared with lower LDL, it did not go the next step of finding solutions where the balance between diet and medications was important.
'In a relatively low-risk younger group, are the authors suggesting more people start statins at a younger age, and how might lifestyle changes be important?' said Associate Professor Redfern.
She also noted that the study did not provide a gender-based analysis, which was important in studies of this size.
'Much of this work is driven by analyses in men and outcomes in men but we shouldn't assume that the two genders are one and the same.'
Circulation 2018; 138; doi: 10.1161/CIRCULATIONAHA.118.034273.