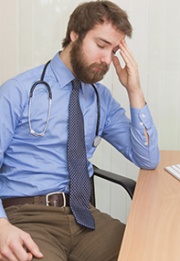 High rate of depression among medical interns, residents and registrars
By Jane Lewis
A systematic review and meta-analysis of 54 studies has found depression and depressive symptoms are common among resident physicians, and tend to increase in line with the calendar year. More research is needed to find effective strategies for preventing and treating depression in this group, the study's authors suggest.
'This excellent and important meta-analysis has confirmed excessively high rates of depression among interns, residents and registrars, with just under 30% reporting depression or depressive symptoms,' commented Professor Philip Mitchell, Consultant Psychiatrist at the Black Dog Institute, and Head of the School of Psychiatry at UNSW, Sydney.
'While there were no Australian studies included in the meta-analysis, we would expect to see similar findings in this country,' he told Medicine Today.
The meta-analysis, published in the Journal of the American Medical Association, included 31 cross-sectional studies (9447 participants) and 23 longitudinal studies (8113 participants) of depression among physicians in training. Depending on the nature of the assessment tools used, the prevalence of depression or depressive symptoms ranged from 20.9% to 43.2%, with the summary estimate at 28.8%. A secondary analysis of seven longitudinal studies found a significant median increase (15.8%) in depressive symptoms among trainees within a year of starting residency.
'In many ways the findings of this study are not surprising, as these are highly stressful years in the life of medical practitioners, with long hours, reduced sleep and frequent confrontation with patient deaths and complex clinical decisions,' observed Professor Mitchell.
The authors pointed out that most participants were assessed through self-report inventories, rather than diagnostic clinical interviews, and that the sensitivity and specificity of the instruments used varied substantially. However, the author of an editorial accompanying the paper suggested the authors had 'addressed this problem with appropriate groupings of instruments that perform in similar ways,' and claimed 'the subtle methodologic complexities' of the review 'pale in comparison with the fundamental finding that the extent of depressive symptoms in physicians in training is extraordinarily high.'
'This systematic review makes it clear that the medical profession has a major problem,' the editorialist stated.
Professor Mitchell agreed, saying the study highlights the need for processes to reduce unnecessary stress, such as regulated working hours and rosters, and easy access to confidential psychological support.
'Apart from the impact on junior doctors, high levels of depressive symptoms undoubtedly also impinge upon the quality of clinical decision-making and care,' he said.
JAMA 2015; 314: 2373-2383.
JAMA 2015; 314: 2357-2358.
Picture credit: © Arkanex/iStockPhoto. Model used for illustrative purposes only.