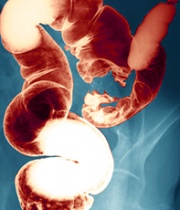 Higher vitamin D levels linked to reduced breast and colon cancer risk
By Bianca Nogrady
Higher vitamin D concentrations are associated with a reduced risk of both breast and colorectal cancer (CRC), according to two recent studies.
The first – published in the Journal of the National Cancer Institute – pooled data from 17 cohort studies in 5706 people with CRC and 7107 controls.
Individuals who were vitamin D deficient – with a 25-hydroxyvitamin D (25[OH]D) level below 30 nmol/L – had a 31% higher risk of CRC than those in the lower range of 'sufficiency', with a 25(OH)D level of 50 to <62.5 nmol/L. Individuals with vitamin D levels 75 to <87.5 nmol/L had a 19% lower risk of CRC, and those with levels from 87.5 to <100 nmol/L had a 27% lower risk, than those in the 50 to <62.5 nmol/L range.
For each 25 nmol/L increase in circulating 25(OH)D, there was a 19% reduction in CRC risk in women and 7% reduction in men, even after adjusting for potential risk factors such as BMI, alcohol intake and physical activity.
A second study, published in PLoS One, used pooled data from three prospective studies comprising 5038 women aged 55 years or older to examine the association between 25(OH)D concentrations and breast cancer.
An 82% lower incidence of breast cancer was found among women with 25(OH)D concentrations at or above 60 ng/mL (150nmol/L) compared with women with concentrations below 20ng/mL (50nmol/L), after adjusting for age, BMI, smoking status and calcium supplement intake.
Commenting, Professor Rebecca Mason, Professor of Endocrine Physiology at the Sydney Medical School, said the question was whether the relationship between higher vitamin D levels and reduced cancer risk was causal.
'The association between low vitamin D and the risk of CRC is the most consistent of the associations and seems to be a linear relationship, but it's still an association,' said Professor Mason, also Deputy Director of the Bosch Institute, Sydney.
She told Medicine Today that there had been a few randomised controlled trials of vitamin D supplementation that had failed to find an effect, but these may not have had enough power.
'It's not clear whether if you go out and increase your vitamin D from 55 to 95 nmol/L it would make any difference,' she said, noting there were challenges and risks associated with achieving very high vitamin D levels.
J Natl Cancer Inst 2018; doi: 10.1093/jnci/djy087.
PLoS ONE 2018; https://doi.org/10.1371/journal.pone.0199265.