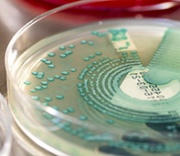 Importance of community-level antibiotic stewardship highlighted by MRSA prevalence data
By Nicole MacKee
Community-level antibiotic stewardship and infection control measures are crucial, says an Australian expert after researchers confirmed that more than half of the methicillin-resistant Staphylococcus aureus (MRSA) cases identified in a NSW study were acquired in the community.
Research published in the Medical Journal of Australia found that 56.9% of patients with MRSA – identified between 2008 and 2014 by the Hunter New England Local Health District – had not been admitted to hospital in the preceding year.
Of the 39,231 people who had a first positive S. aureus specimen, 19.3% (7563) had MRSA. The researchers reported that people under 40 years of age, Indigenous Australians (odds ratio [OR], 2.6; 95% confidence interval [CI], 2.3-2.8) and aged-care residents (OR, 4.7; 95% CI, 3.8-5.8) were most likely to be infected with community-acquired MRSA.
They also found that the proportion of MRSA isolates that included the dominant multiresistant MRSA strain (AUS-2/3-like) significantly decreased over the study period (reducing from 29.6% to 3.4%), and a non-multiresistant MRSA pre-dominated in both community and healthcare settings. Among aged-care residents, the EMRSA-15-like strain predominated.
Associate Professor Tom Gottlieb, Head of Infectious Diseases at Concord Hospital in Sydney, said the findings confirmed that while hospital-acquired MRSA has been increasingly better controlled, a different, 'community-associated' MRSA clone, which is potentially more virulent, was getting a foothold in the community.
'The multiresistant MRSA that we used to have in hospitals has been largely controlled through a combination of improved infection control and antibiotic stewardship efforts,' said Professor Gottlieb, who is also Clinical Senior Lecturer at the University of Sydney.
'The community-acquired MRSA clone has an extra virulence factor which is associated with boils. We don't see that in the hospital-acquired MRSA, which tends to colonise existing ulcers in the elderly. Once these new MRSA clones become established in the community, they are much harder to control than in a hospital where you can push hand hygiene and develop policies for antibiotic use.'
Professor Gottlieb said the over-riding message to clinicians was the importance of antibiotic stewardship throughout the community.
'When a patient presents with a lesion, traditionally you would think S. aureus is the likely organism present and prescribe flucloxacillin,' Professor Gottlieb told Medicine Today. 'But once MRSA is recognised, the antibiotics we would use, if clinically required, are very different – they, for example, tend to be drugs such as clindamycin or minocycline.' However, he said, worryingly, resistance to these is also evolving.
Professor Gottlieb said environmental infection control may also be needed in cases of recurrent community-acquired MRSA infection. He said it may be necessary to prescribe antibiotics for the index patient, but also to use antiseptics to address nasal carriage and to advise families on measures to reduce cross-infection.
Med J Aust 2017; 207: 388-393.
Picture credit: © Daniela Beckmann/SPL