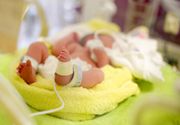 © LULLABEE/SHUTTERSTOCK. MODEL USED FOR ILLUSTRATIVE PURPOSES ONLY
Importance of considering pregnancy history in cardiovascular risk assessment
By Melanie Hinze
A woman's pregnancy history should be kept in mind when considering cardiovascular risk, an Australian expert has told Medicine Today.
Professor Stephen Nicholls, Director of MonashHeart and the Victorian Heart Institute, Melbourne, was commenting on a recent study published in JAMA Cardiology, that found that preterm delivery was associated with significantly higher future risks of chronic hypertension.
The national cohort study included all 2,195,989 women in Sweden who had a singleton delivery from 1973 to 2015. The study authors found that within 10 years after delivery, women who had a preterm delivery were 1.67 times more likely to have hypertension than women with full-term deliveries.
The risk of hypertension was also linked to the degree of prematurity. Women who had an extremely preterm delivery (22 to 27 weeks) were 2.23 times more likely to experience hypertension than those with full-term deliveries.
Likewise, moderately preterm deliveries (28 to 33 weeks) were linked to a 1.85 times increased risk. Women with late preterm deliveries (34 to 36 weeks) had a 1.55 times increased risk, whereas women with early preterm deliveries (37 to 38 weeks) had a 1.26 times increased risk, compared with women with full-term deliveries. These risks decreased, but remained significantly elevated, over 43 years' follow up.
The authors noted that their findings were not explained by shared determinants of preterm delivery and hypertension within families.
Professor Stephen Nicholls said the study's strength was that it included a large number of pregnancies in a country with excellent data collection.
'This tells us what we've thought for a long time,' he said, 'that complications of pregnancy, including preterm delivery, are associated with a greater likelihood of premature cardiovascular risk in the long term.'
He added that this was true whether we're looking at individual risk factors such as hypertension or the development of premature cardiovascular events.
'It also suggests that we should keep the pregnancy history in mind and watch these women more closely for the development of early signs of increasing cardiovascular risk', he said.
JAMA Cardiol 2021; doi:10.1001/jamacardio.2021.4127.