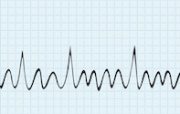 Improving fitness helps patients with AF
By Jane Lewis
High levels of cardiorespiratory fitness can lower the risk of arrhythmia recurrence in over­ weight and obese patients with atrial fibrillation (AF), while gains in fitness add to the effects of weight loss in improving AF outcome, new research suggests.
Published in the Journal of the American College of Cardiology, the prospective, observational study was led by researchers at the Centre for Heart Rhythm Disorders at the University of Adelaide, SA.
Speaking to Medicine Today, lead author, cardiologist Dr Rajeev Pathak said that although recent studies have found an inverse relationship between increased physical activity and the risk of incident AF, the impact of cardiorespiratory fitness gain with a graded exercise program along with weight loss on AF outcome has been unclear and largely neglected as a therapeutic target.
'Our prior work demonstra­ted that weight loss has a beneficial effect on cardiac risk factors, and in this study we found an additive effect of cardiorespiratory fitness over weight loss,' he said.
In the study, 825 patients with AF who were overweight (BMI ≥27 kg/m2) were offered risk factor management and participation in a tailored exercise program; 308 of these patients received regular follow up and were included in the analysis. Patients were divided into three groups based on their cardiorespiratory fitness – low (<85% predicted metabolic equivalents [METs]), adequate (86% to 100% predicted METs), and high (>100% predicted METs) – and followed for an average of four years.
At final follow up, 12% of the low, 35% of the adequate, and 66% of the high cardiorespira­tory fitness group remained free from arrhythmia without having taken antiarrhythmic drugs or undergoing ablation, demonstrating that baseline fitness predicted future AF. Improved fitness was also asso­ciated with reduced recurrence of AF, with a 9% decrease in AF recurrence seen for each unit gain in MET. A ≥2 MET gain in cardiorespiratory fitness in addition to weight loss was associated with twofold greater freedom from AF.
'Our study adds to growing body of evidence that aggressive risk factor management with increased physical activity should be an integral component of AF management, particularly in the strategy of rhythm control,' said Dr Pathak.
The author of an accompanying editorial described the study as 'exciting' because 'it is the first to demonstrate that increasing exercise capacity reduces AF risk.' The results suggest that, 'until definitive trial data are available, clinicians should recommend moderate exercise training to patients with AF, not only to reduce AF, but also for its overall cardiovascular benefits.' 
J Am Coll Cardiol 2015; 66: 985-986.
J Am Coll Cardiol 2015; 66: 997-999.
Picture credit: © Sudok1/Dollar Photo Club.