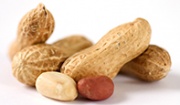 © AURELIEN POTTIER/STOCKADOBE.COM
Increased anaphylaxis risk with peanut oral immunotherapy
By Bianca Nogrady
Peanut oral immunotherapy appears to actually increase the incidence of anaphylaxis, despite also decreasing sensitivity, a systematic review and meta-analysis has found.
The study, published in The Lancet assessed the outcomes of 12 randomised controlled trials of oral immunotherapy for peanut allergy, involving 1041 patients. It found that patients treated with oral immunotherapy had a more than threefold higher risk of anaphylaxis during the build-up of tolerance and the maintenance period, compared with patients treated with placebo. They also had a 2.72-higher frequency of anaphylaxis, and greater than twofold higher risk of adrenaline (epinephrine) use.
Peanut oral immunotherapy was also associated with a 92% higher relative risk of serious adverse events and higher relative risks of non-anaphylactic reactions such as angioedema and upper and lower respiratory tract reactions.
However, these patients were 12 times more likely to pass a supervised peanut challenge compared with those given placebo.
'This meta-analysis shows that current peanut oral immunotherapy regimens can achieve the immunological goal of desensitisation, but that this outcome does not translate into achieving the clinical and patient-desired aim of less allergic reactions and anaphylaxis,' the authors wrote.
'Rather than take the view that these data denounce current research in oral immunotherapy as not successful, we instead suggest that this research has reached an important milestone in mechanistic but not clinical efficacy.'
Commenting on the study, paediatric allergist and immunologist Dr Preeti Joshi, from the Children's Hospital at Westmead, Sydney said the findings showed that more research – for example, into adjuvants – was needed to achieve acceptable outcomes.
Dr Joshi, also Chair of the Paediatric Committee for ASCIA, told Medicine Today it was important to look at what people with peanut allergy might want out of oral immunotherapy.
'It's all very well to say you can get desensitisation, but if people knew that you're more likely to have more anaphylaxis and more severe reactions while you're on this therapy, would that change their minds?' she said.
However, desensitisation might also mean someone with peanut allergy is less likely to react to peanut exposure in a less controlled setting, such as on holiday.
'Knowing what the individual wants and requires and at different stages of life is really important,' Dr Joshi said.
Lancet 2019; http://dx.doi.org/10.1016/S0140-6736(19)30420-9.