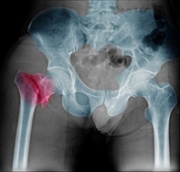 Increased hip fracture risk found before and after antidepressant initiation
By Bianca Nogrady
Antidepressants appear to be associated with an increased risk of hip fracture in the elderly, both before and after the initiation of treatment, a Swedish study has found.
The nationwide cohort study, published in JAMA Psychiatry, looked at 204,072 adults aged 65 years and over who had been prescribed antidepressants, and the same number of matched controls who were not prescribed antidepressants. It found that antidepressant users had up to a fivefold higher incidence of hip fracture before and after starting antidepressants than those not taking antidepressants. The risk of hip fracture associated with antidepressant use gradually increased from a year before treatment, peaked in the month before starting treatment, then declined gradually in the year after starting treatment.
The highest odds ratio (5.76) was in the 16 to 30 days before the prescription was filled, and researchers also saw a stronger association in men than in women. However, they did not see a clear dose­-response rela­tionship between antidepressant use and hip fracture risk.
The researchers noted that previous research had found an association between antidepres­sant use and hip fracture risk after the onset of treatment. However, to their knowledge, this was the first time the association found an increased risk before treatment onset, which they attributed to a 'high burden of comorbidity and confounding by indication.'
Rheumatologist Professor Lyn March said the findings challenged the idea of a causal link between antidepressants and hip fracture risk by showing the highest increase in risk was before the onset of treatment.
'Another interpretation could be that the older persons were depressed before and that contributed to their fall and fracture,' said Professor March, Professor of Rheumatology and Musculoskeletal Epidemiology Medicine at The University of Sydney.
Professor March told Medicine Today that any drug use in the elderly should be carefully considered, particularly when adding new medications.
'Depression should not be overlooked or ignored, non­-pharmacological interventions should be encouraged and antidepressant medications need not be avoided but used with caution if appropriate,' she said.
The authors of an accom­panying editorial noted that antidepressants were generally prescribed at a high rate during the time after a fracture. 'How­ever, for most older adults, the toll of untreated depression will likely outweigh the potential risks associated with antidepressant use, including falls or fractures,' they wrote.
JAMA Psych 2019; doi:10.1001/jamapsychiatry.2018.3679.
JAMA Psych 2019; doi:10.1001/jamapsychiatry.2018.E1-E2.