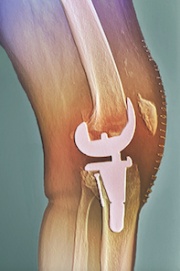 Increased MI risk with arthroplasty only short term
By Bianca Nogrady
The short­ term increase in the risk of myocardial infarction (MI) with total knee or hip replacement disappears over the longer term, new data suggest.
The association between MI risk and total joint arthroplasty was studied in large general practice cohort of patients aged 50 years or older with osteoarthritis who underwent total knee or hip replacement.
In the 13,849 patients who underwent total knee replacement and 13,849 matched controls, the surgery was associated with an almost ninefold increase in MI risk in the first month after surgery, but this was no longer significant by six months. Over the entire follow­ up period of about four years, the hazard ratio for MI was a nonsignificant 0.98 in the intervention group compared with controls.
Among the 6063 patients who underwent total hip arthroplasty compared with 6063 matched controls, the risk of MI increased fourfold in the first month after surgery then dropped back into nonsignificance after that first month, according to the study findings, published in Arthritis & Rheumatology.
'Contradictory to recently published findings, our study indicates that total joint arthroplasty surgical procedures do not provide an overall protective effect on the risk of myocardial infarction,' the researchers wrote.
The researchers also used the association between total joint arthroplasty and venous thromboembolism (VTE) risk as a positive control outcome – given the well­ established link between these – and showed a significantly increased risk of VTE for both procedures for the duration of follow up.
Hip and knee specialist Dr David Broe said the 30­-day mortality spike was observed with any major surgery and was not specific to arthroplasty.
'When you undergo any form of major surgery, it is a major insult on the body and there is a catabolic effect where the body breaks down, so you're promot­ing a lot of stress,' said Dr Broe from Sydney's Prince of Wales Hospital. However, there were numerous measures being implemented to reduce that stress and to improve surgical techniques and preoperative nutrition to lower the immediate risk of adverse outcomes such as MI and VTE, he said.
'Any patient who undergoes total knee or hip arthroplasty is seen by the anaesthetist before surgery, and if they're worried about anything, such as cardio­ vascular or renal problems, then that is optimised pre­ operatively,' Dr Broe told Medicine Today.
'Then at the time of surgery we try to perform every joint replacement under spinal anaesthesia because that has been shown to reduce the risk of VTE and also reduces pain scores.'
Arthritis Rheum 2015; doi 10.1002/art.39246.
Picture credit: © Zephyr/SPL.