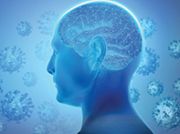 Increased risk of mental health disorders after COVID-19
By Rebecca Jenkins
People with COVID­-19 have an increased risk of developing mental health disorders, with the association evident even in people not hospitalised with the virus, research shows.
Previous studies had revealed a rise in mental health condi­tions in the post­acute phase of COVID­-19, but they only looked at a narrow selection of mental health outcomes for a maximum of six months' follow up, US researchers wrote in The BMJ.
Using a national cohort of more than 153,000 people who survived the first 30 days of COVID­-19, the researchers were able to compare their mental health outcomes with a contemporary control group without COVID­-19 (5,637,840 people) and a historical control group (5,859,251 people) that predated the pandemic. Over 12 months' follow up, the COVID­-19 group showed an increased risk of incident anxiety disorders, depressive disorders, stress and adjustment disorders, opioid use disorders, other substance use disorders, neurocognitive decline and sleep disorders compared with both control groups.
People admitted to hospital during the acute phase of COVID­-19 were at the highest risk, but the risk was evident even among people who were not hospitalised for COVID­-19.
Professor Maree Teesson AC, Director of the Matilda Centre for Research in Mental Health and Substance Use at The University of Sydney, said the breadth of mental health problems revealed in the robust study was surprising, along with the risk for people who had not been hospitalised.
'The range is extensive and speaks to the long-term consequences of COVID­-19, something we are still coming to terms with,' Professor Teesson told Medicine Today.
A better understanding was needed of the interaction between mental health disorders both as a risk for and sequela of COVID­-19, she said, with research needed into the biological mechanisms that may underpin the relationship as well as the effects of the economic and social disruption wrought by the pandemic.
'COVID-19 is the most disruptive social event of our lifetimes,' she said. 'Being unemployed and losing your employed "identity" has a profound impact on mental health, unemployment disrupts your ability to maintain social roles and relationships that provide meaningful life structure.'
Professor Teesson, who is also Chair of Australia's Mental Health Think Tank, said the US study confirmed the Think Tank's own research released last year that found it was harder for some groups of people, hit particularly hard by the pandemic, to bounce back.
'Post­-pandemic responses that ensure access to quality mental health care will be critical but, equally, policy changes outside of traditional health domains will be important,' she said.
'People, especially young people, will need enough income support to thrive and we will need policies that allow us to rebuild our connections and reconnect with meaningful work, education and community. These are essential for our transition into "living with COVID" and thriving in a post­-COVID world.'
GPs were often the first point of call for people concerned about their mental health, Professor Teesson noted, suggesting Australian­-developed online resources from the Black Dog Institute (https://www.blackdoginstitute.org.au) and the Matilda Centre (https://www.sydney.edu.au/matilda-centre) might be helpful when counselling patients.
BMJ 2022; 376: e068993.