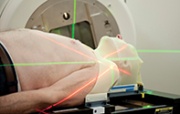 © DR P MARAZZI/SPL. MODEL USED FOR ILLUSTRATIVE PURPOSES ONLY
Increased suicide risk in survivors of head and neck cancer
By Jane Lewis
Survivors of head and neck cancer (HNC) are twice as likely to commit suicide than survivors of other major cancers, suggests a US study published in Cancer.
'Although survival rates in cancer have improved because of improved treatments, the risk of death by suicide remains a problem for cancer survivors, particularly those with HNC,' the study authors concluded.
Psychiatrist Professor Jane Turner from the University of Queensland's Faculty of Medicine, Brisbane, said that while she would 'accept that there is an increased risk of suicide in cancer survivors' there were no Australian data available to confirm this.
'The Australian data on suicide is very compelling, but interpreting the data is quite complex,' she told Medicine Today, adding that suicide rates among cancer survivors were unknown, as was the potential impact of new euthanasia legislation in Victoria.
Using the National Cancer Institute's Surveillance, Epidemiology, and End Results database, the authors identified 4,219,097 cancer survivors diagnosed between 2000 and 2014, of whom 151,167 were diagnosed with HNC (squamous cell carcinomas of the oral cavity, pharynx, larynx, nasal cavity and sinuses). In the HNC group there were 404 suicides (63.4 suicides per 100,000 person­-years), compared with 4493 suicides for the entire study population (23.6 suicides per 100,000 person­-years).
Survivors of HNC were almost twice as likely to die from suicide as survivors of other cancers (adjusted rate ratio, 1.97). Only pancreatic cancer survivors had a higher suicide rate than HNC survivors (86.4 suicides per 100,000 person­-years).
'The psychosocial literature indicates that screening for psychological distress may be inadequate,' the authors wrote, adding that 'screening should be viewed as a doorway to further communication, appropriate assessment, and tailored interventions.'
Professor Turner said the single biggest risk factor for suicide in people with cancer was depression. 'Cancers of the head and neck, and pancreatic cancer, have very high rates of morbidity and pain, which increases your chance of being depressed,' she said.
'GPs need to be alert to depression as a common and treatable complication of cancer. It is important that we see depression in cancer survivors as something that merits treatment, rather than assume it is inevitable,' she added.
Cancer 2018; 124: 4072-4079.