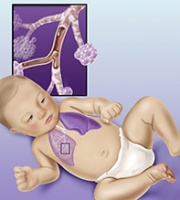 © B. WAINWRIGHT/CUSTOM MEDICAL STOCK PHOTO/SPL
Infant bronchiolitis linked to early childhood respiratory hospital admissions
By Bianca Nogrady
Admission of infants to hospital with bronchiolitis before the age of 1 year is associated with a significant increase in the risk of hospitalisation with respira­tory illness by age 5 years, a UK study has found.
The retrospective population­ based cohort study, published in the Archives of Disease in Childhood, suggests that infants under 1 year with at least one admission to hospital for bronchiolitis have an almost threefold higher odds of having further hospital respiratory admissions by age 5 years.
The study of hospital admission data for 613,377 infants born in 2007 to 2008 found the association was strongest for asthma, with a fourfold higher risk, and wheezing, with a fivefold higher risk of admission before age 5 years. There were also significant increases in the risk of admission for both upper and lower respiratory tract infections.
The researchers found that 16,288 (2.7%) of the cohort had been admitted to hospital for bronchiolitis before age 1 year, 21.7% of whom were sub­sequently admitted for respiratory problems before age 5 years, compared with 7.6% of infants who had not experienced bronchiolitis. The researchers suggested that 2297 additional hospital admissions for respiratory problems before age 5 years in this cohort were attributable to infant bronchiolitis.
'Quantifying the morbidity and healthcare burden for infants with severe bronchiolitis requiring admission is important as bronchiolitis may not be one condition but actually different severity clinical phenotypes,' they wrote.
Commenting on the study, Dr Hiran Selvadurai, Clinical Professor of Respiratory Medicine and Head of Department at the Children's Hospital Westmead, Sydney, said its strength was its large sample size and it served to raise awareness of the issue.
However, he stressed that more detail was needed about what factors might be influencing the risk of bronchiolitis resulting in increased respiratory morbidity as the infant grew older. Factors such as atopy, breastfeeding rates or exposure to second­-hand cigarette smoke may influence the risk of later respiratory problems and may be modifiable.
'Hopefully now [the researchers] can drill down on those specific risk factors so clinicians can intervene,' Dr Selvadurai told Medicine Today.
The researchers suggested environmental factors could play a role, but raised the possibility that infant infec­tions could have immunolo­gical effects that then increased the risk of later respiratory problems, or a genetic suscep­tibility could underlie both. 
Arch Dis Child 2019; doi: 10.1136/archdischild-2018-316317.